Wedding in Oahu? Fashion Tips for Outdoor/Beach Wedding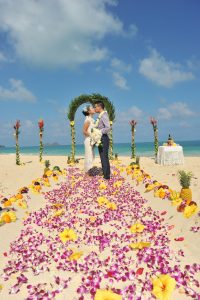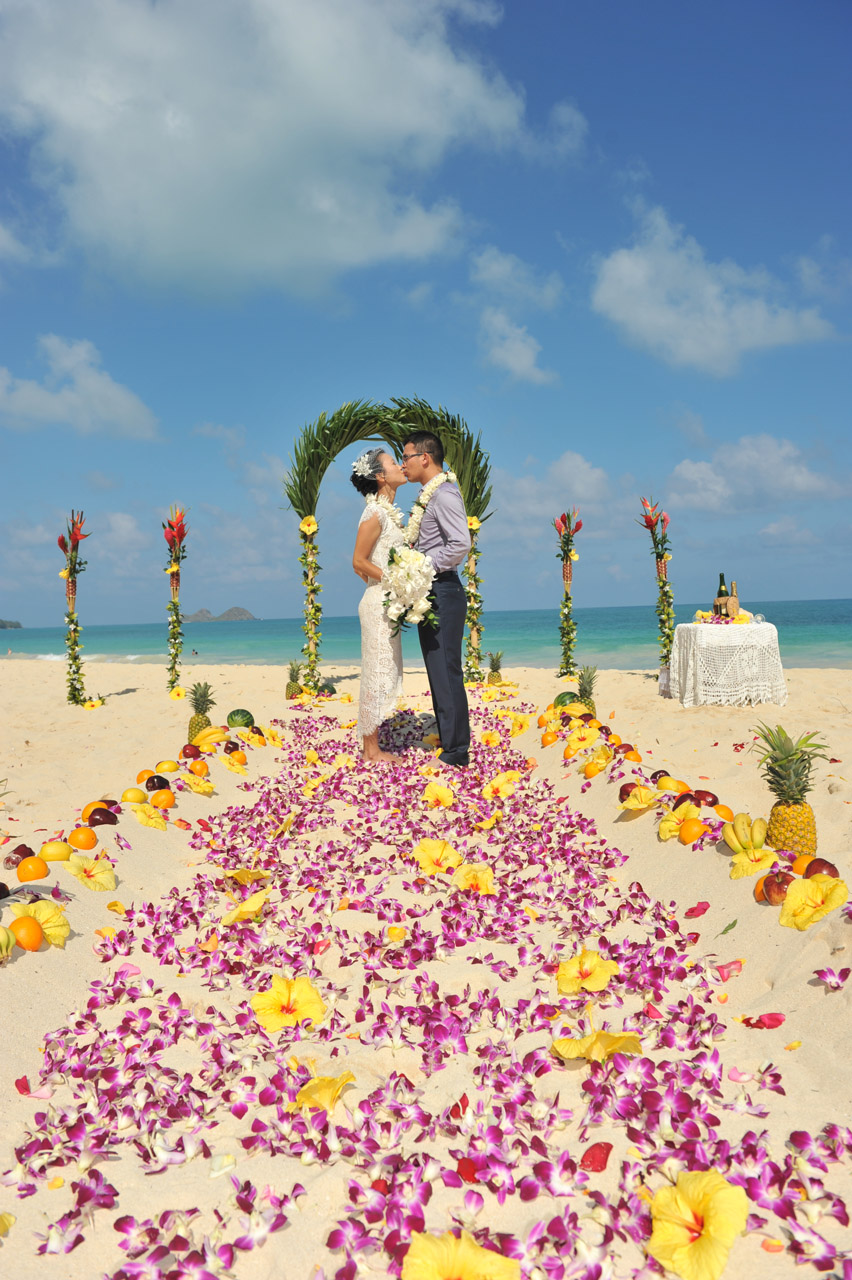 When you plan to get married on the beach in Oahu or on any of Hawaii's beautiful islands, you may not consider the sun, sand, and surf when it comes to looking your best. Most brides want to look their most beautiful on this special day, but it can be tough unless you're prepared!
If your dream is a wedding in Oahu, we have a few "must know" fashion tips to help you stay fresh and maintain your summer wedding look throughout the day:
Afraid your hair will end up a sweaty, frizzy mess? Conquer the worry by styling your hair in a low bun close to the neck, embellished with a Victorian chain – or, wear a veil to keep your style in place until you head indoors.
Avoid squinty, red eyes by wearing stylish sunglasses before and after the wedding ceremony. Sunglasses will keep the sun and sand out of your eyes, so you'll look gorgeous in those wedding photos! Be sure to choose a style that won't leave red marks on your nose or the sides of your face.
Avoid the awkwardness of heels by choosing glammed-up gladiator sandals. Embellished with rhinestones, crystals, or other sparkly adornments, flat gladiator sandals are stylish and comfortable, perfect for a beach wedding in Oahu. If you insist on height, consider color-blocked wedges instead of spike heels, and choose hues that complement your color scheme.
Don't sweat it. A poofy gown with lots of layers traps heat – and could leave you wilting with sweat. Instead, choose a peplum sheath with rosette skirt, perfect for walking through the sand. An added bonus? The same dress can work for your reception, just remove the peplum.
Add floral accessories to keep your look fresh. What's more fresh than flowers? A colorful statement lei will add to your look, and incorporates perfectly with an outdoor theme. Colorful floral jewelry keeps you looking fresh as a daisy! Skip the pearls, gold, and silver.
At Sweet Hawaii Wedding, we understand that every bride wants to look her best on the most memorable, cherished day of her life. Sun, wind, and sand don't have to be your enemies, when you know how to work with the elements! As trusted Oahu wedding planners we offer various wedding packages for every budget, and are happy to help make your day one that you'll remember fondly forever.