Sacred Hawaiian Wedding Package
Sacred Hawaiian Beach Wedding and Vow Renewal Package
Our Sacred Hawaiian Wedding is our most requested Wedding Package. This ceremony is filled with traditions of old Hawaii; couples feel themselves uplifted and deeply touched by this blissful experience of mystical Hawaii. Performed at sacred island locations. Immersed in Hawaii legends and myths. Decorated Tiki torches topped with firey tropical flowers, a full Tropical bouquet and a warrior Maile Lei are all part of this Sacred Hawaiian Wedding Package. With this package you receive 225 images with a variety of both posed and candid shots. The images are uploaded to the internet the evening of your wedding and a link sent to you via email. The photo shoot in its entirety is yours to download for two weeks.
Our Sacred Hawaiian Package includes:

Four Tiki Torches decorated with Tropical Flowers.


Colorful Tropical Bridal Bouquet.


Groom's Hawaiian Warrior Maile.


225 Copyright Free Photos
Location
Beach Permit service provided for you.
Photography
Professional Photographer for (ONE FULL HOUR).
225 Copyright Free Photos unedited uploaded on the day of the ceremony.
Your entire photo shoot is uploaded via WE-TRANSFER and you are sent an email on the evening of your wedding so you have total access to all of your photos. The entire photo session is copyright free. This means you do not need to purchase photos from us in the future as with many wedding companies.
Ceremony
Licensed Hawaiian Minister (Kahu Coco)
Conch shell blowing at the beginning and end of your wedding ceremony.
Live Hawaiian Chant at the Opening of Ceremony
Kahu sings two Hawaiian songs with Ukulele for processional and recessional.
Hawaiian Style Vows.
Hawaiian Blessing of Rings.
Hawaiian Lei ceremony for Bride and Groom with two fresh Orchid Leis.
Ohana (family) Ceremony (Lei Blessing for children of the Bride and Groom)
Hawaiian Prayer Chant and Blessing of marriage.
Elegant Hawaiian Certificate of Marriage (Suitable for framing).
Copy of Vows (Printed on elegant Parchment Paper).
Flowers and Leis and Hawaiian Touches
Four Tiki Torches decorated with Tropical Flowers
Colorful Tropical Bridal Bouquet.
Groom's Hawaiian Warrior Maile.
Two fresh Orchid Leis.
Traditional Hawaiian Shell and Kukui Nut Wedding Leis (These sacred leis are to keep with you as a lifetime memento of your Hawaiian Wedding).
Planning
Coordination meeting on phone before your wedding day.
Assistance with ideas for your reception.
Marriage License
You must apply online and pick up your own marriage license once you are on island (before wedding).
Our minister processes Marriage License (after wedding).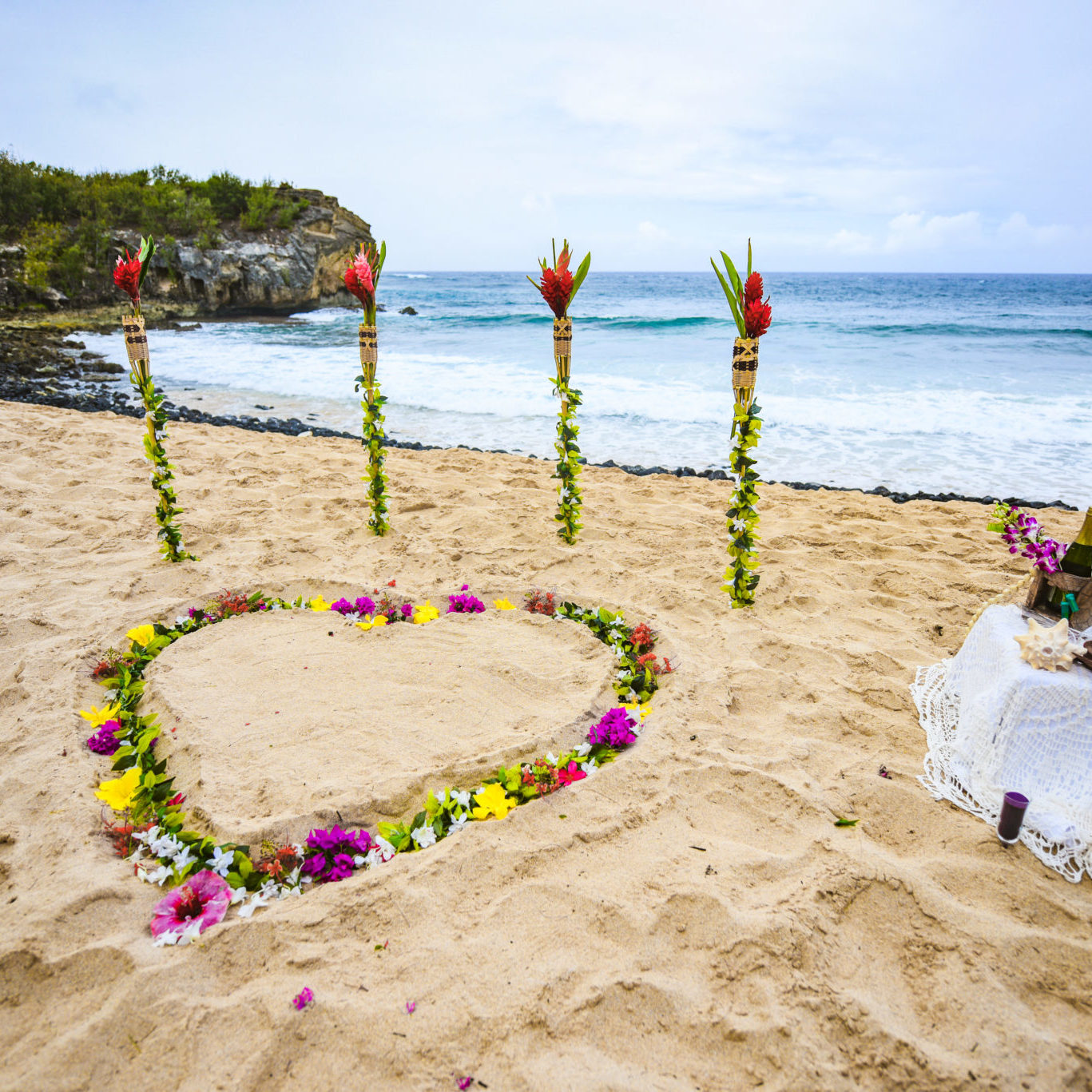 Limited Time Offer!
Book this package now and receive a FREE Flower Heart to stand in for your ceremony.
PRICES START AT $1275 FOR COMPLETE PACKAGE FOR TWO
Sacred Hawaiian Package Pricing
Just the two of you!
$1275
With up to 10 guests!
$1375
With 11 to 20 guests!
$1475
(+ 4.5% Hawaii State tax)
The possibilities for your Sacred Hawaiian Wedding Ceremony are as endless as your imagination.
Look through our website and you will see a variety of enhancements. You may add flower pathways, hearts or circles in the sand, floral tiki torches, hair and make-up in your room, Island Musicians, limousines, colored sand ceremonies, and gorgeous tropical bouquets.
Adding a wedding video captures every precious moment of your Hawaiian ceremony, so you can relive this sacred moment over and over. A Sacred Hawaiian Wedding on a gorgeous Oahu or Kauai Beach is a memory to cherish forever.
Love, Fun, Laughter. Happily Ever After!
Stress-free Wedding Planning, Breathtaking Beaches, and Authentic Hawaiian Traditions
Or customize your own unique Hawaii Beach Wedding, Elopement or Vow Renewal using the button below.
The possibilities for your Hawaiian Wedding or Hawaiian Vow Renewal are as endless as your imagination. All of our packages include everything needed for a complete beautiful wedding or vow renewal in Hawaii but if you want to add something else, we offer a number of amenities that can be added on our booking form.
We have a treasure of joyous amenities to choose from. You can add any of these to your package to create your dream ceremony.
Hair and Make-up
Additional Flowers, Leis and Ceremony Bouquets
Video
Hawaiian Palm Arch woven especially for you by your Minister
Flower Pathways
Limos
Hearts and Circles made from Real Tropical Flowers
Tiki Torches with a variety of Tropical Flowers decorating your Sacred Space
Live Entertainment: Hula dancers, Musicians, Fire Dancers
Cakes
Much more
You name it we have it!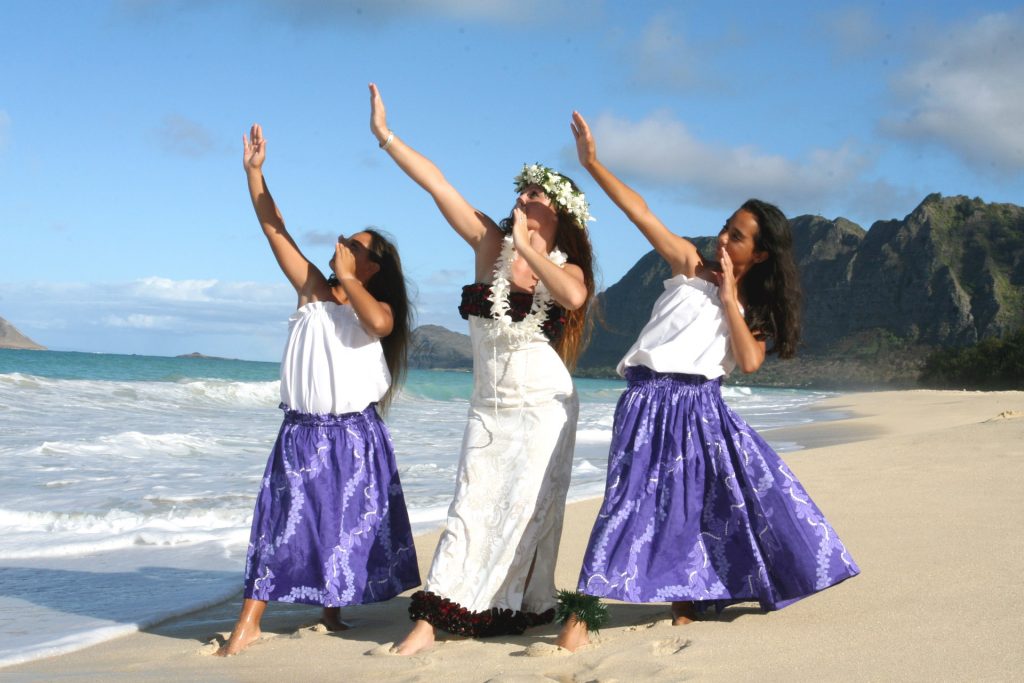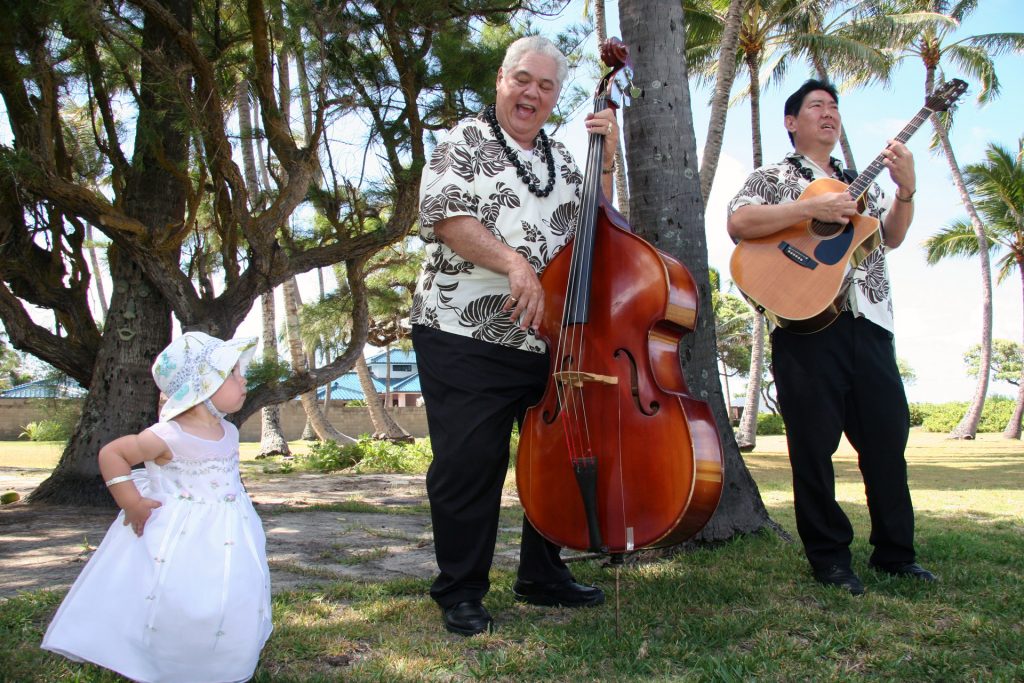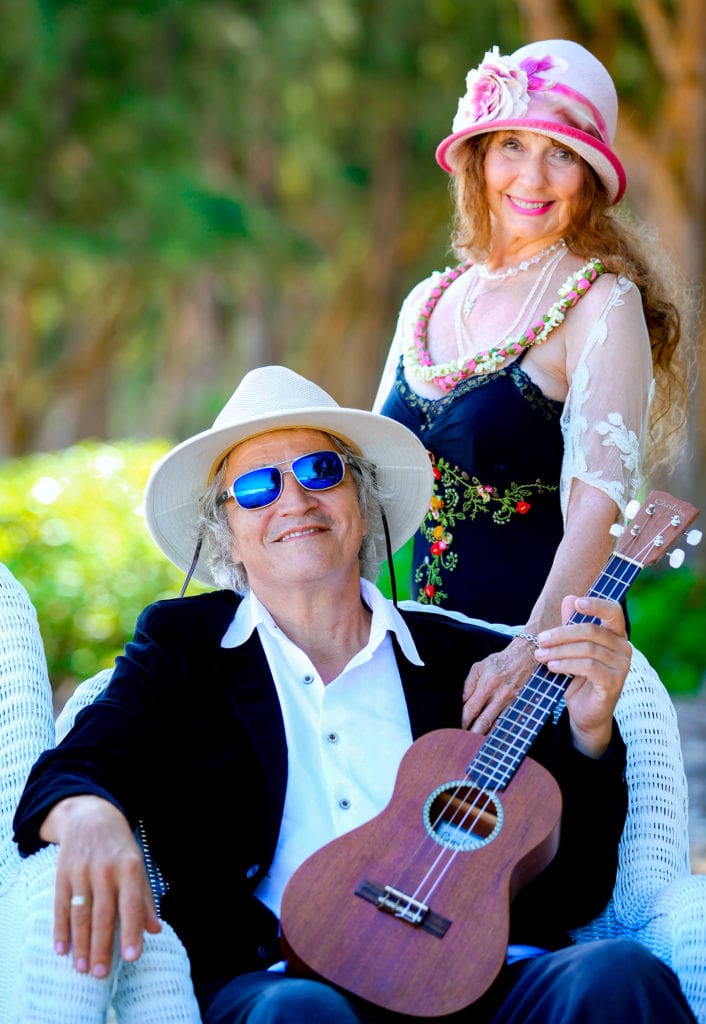 We are proud to be a "third generation" wedding family with heart. A wedding family that is as far away from the corporate world as you can possibly get.
We believe in Stress Free weddings and Living in the Eternal Moments of Love. If your philosophy is in Harmony with ours, please consider booking one of our amazing value packed Hawaii Wedding or Vow Renewal Packages.
Our ceremonies are full of Hawaiian traditions, with Aloha bubbling from the heart and you generously receive an inexpensive Hawaii wedding package that is overflowing with professional photography! Remember, we are an old established generational wedding company! We have been in the wedding business since 1922.
WE ARE EXPERIENCED IN LOVE!
Sacred Hawaiian Wedding Ceremony Photo Gallery