Simply Sacred Hawaiian Wedding Ceremony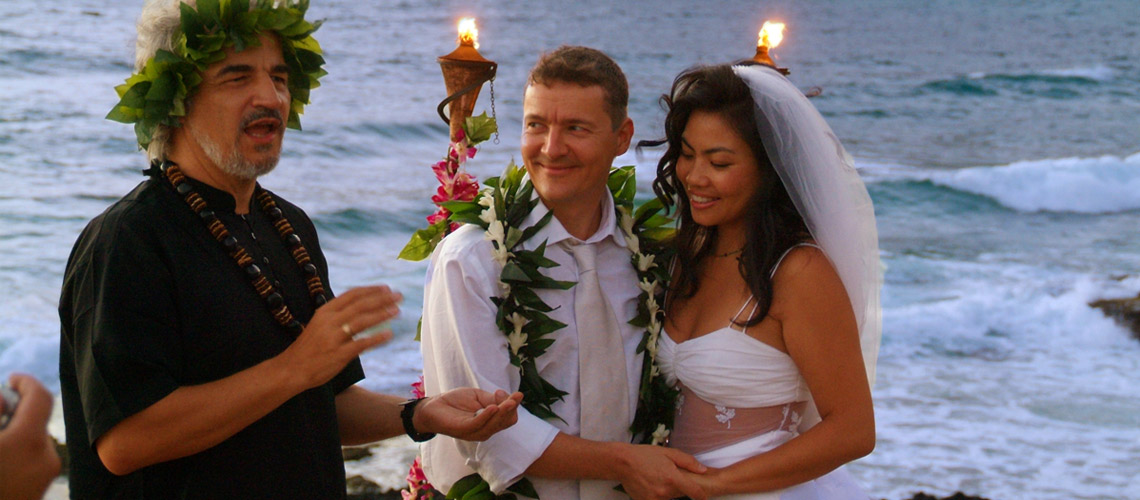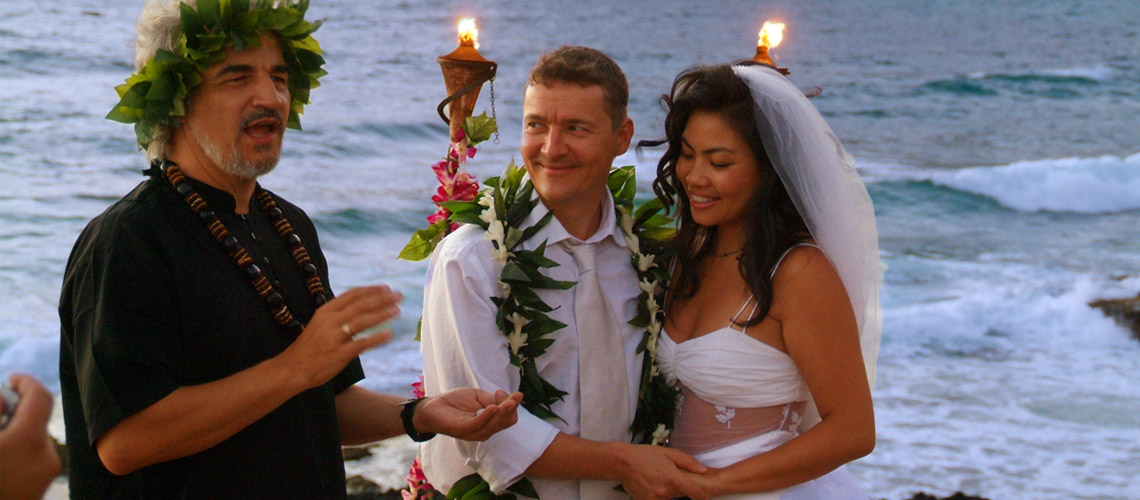 Click Here for Holiday Specials!
This sacred Hawaii wedding package is exactly like its melodious name It is simple, elegant and full of Hawaiian tradition. All of the elements: Earth, Air, Water, Fire are acknowledged through beautiful ritual and are magically woven into your exquisite wedding ceremony.
A wedding day such as this begins your journey through life with Sacred Hawaiian Blessings!
175 Copyright-free photos given to you at your ceremony!
With our Simply Sacred Hawaiian Wedding Package, you get 175 images with a variety of both posed and candid shots. We burn the images onto a disc right at the beach and they are 100% yours with zero copyright restrictions – you're free to do with them as you'd like! You save the trouble of picking up later, waiting to arrive in the mail or complicated online photo services.
We are famous for our creative wedding photography! But what also sets us apart? Believe it or not, up-selling is standard practice for many wedding companies that appear to have good prices. The fact is that, after having lured you with a few images, you have to return to their office to purchase all of your additional wedding photos! With Sweet Hawaii Wedding your precious wedding pictures are not held for ransom but instead, given to you in their entirety, immediately after your beach wedding and professional photo session.
This Simply Sacred Hawaiian Ceremony includes:
Licensed Hawaiian Minister, Hawaiian Style Vows , Four Tiki Torches, Conch Shell Blower (at beginning and end of ceremony), Live Hawaiian Chant at opening of ceremony, Hawaiian Music

Choice of your favorite Oahu Beach or Park location Personal Wedding Coordinator (will meet with you before the wedding)

Fresh Petite Tropical Flower Arrangement , Hand-calligraphy Certificate of Marriage on Beautiful Hawaiian Paper, Personalized Copy of Vows (Printed on tropical Hawaiian Paper), Processing of Marriage License

Colorful Tropical Bridal Bouquet & Groom's Hawaiian Tropical Lei, Two Orchid Leis (for Hawaiian lei ceremony), Traditional Hawaiian Kukui Nut Wedding Leis (These sacred leis are to keep with you for a lifetime memento of your Hawaii wedding)

175 Professional, Copyright-free wedding photos given on day of ceremony.

Chilled Sparkling Cider for Toasting, Keepsake Crystal Champagne Flutes, Display Table with Lace Covering and Turtle Ice Bucket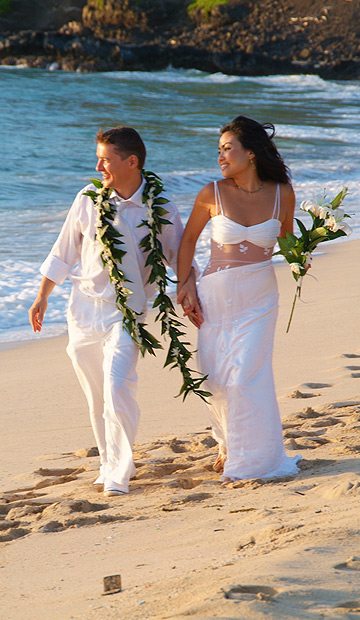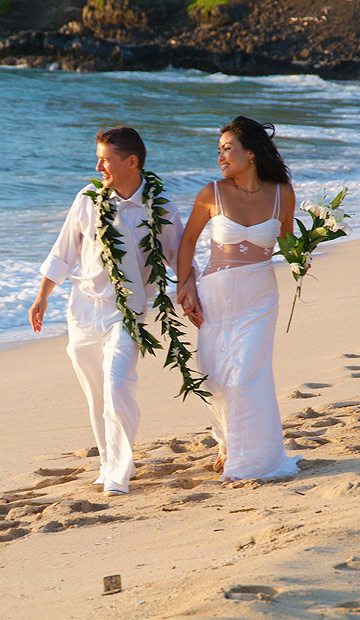 Just the two of you!
$975
With up to 10 guests!
$1075
(+ 4.5% Hawaii State tax)
You will receive a free quote for your wedding by filling out our booking form. You may also request a pay pal link for your deposit.
The possibilities for your Simply Sacred Hawaiian Wedding Ceremony are as endless as your imagination.
Look through our website and you will see a variety of enhancements. You may add decorated chairs, flower pathways, hearts, circles or peace signs in the sand, floral tiki torches, hair and make-up in your room, Island Musicians, limousines, colored sand ceremonies, gorgeous tropical bouquets and even butterflies.
Adding a wedding video captures every precious moment of your Hawaiian ceremony, so you can relive this sacred moment over and over.
An Oahu or Kauai beach wedding is a memory to cherish forever.
Sacred Hawaiian Wedding Ceremony Photo Gallery