Kauai Beach Locations for Your Wedding or Vow Renewal
Kauai is known as the garden island, this description says it all! Kauai is sweet, simple and peaceful. There are no freeways and the pace of life is old time Hawaiian style.
You will quickly notice the contrast between Oahu and Kauai. The first thing your awareness takes in is: "Wow! There are no buildings taller than a palm tree." This is a law in Kauai. Laid back island style is felt in the atmosphere. The local people are friendly and embody the Aloha spirit of times past.
We have many Kauai wedding locations for you to choose from. Each has a distinct beauty that captures romance and relaxation.
You may select any of our Beach locations for your Kauai Wedding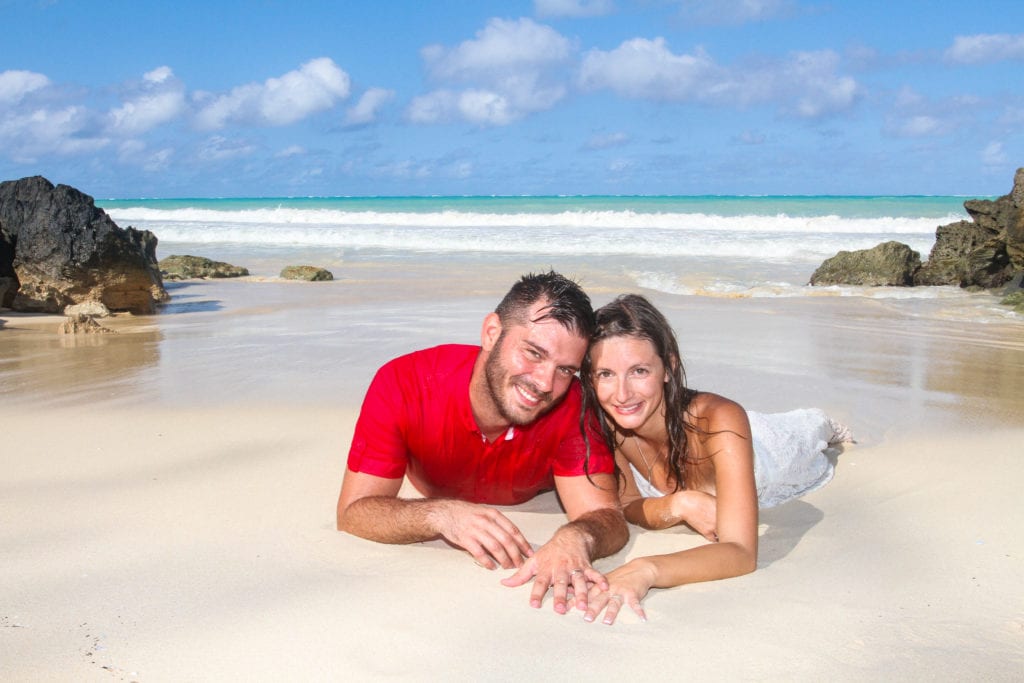 Anini Beach is one of the truly wonderful North Shore Beaches of Kauai. For couples staying in Princeville, it is mere 10 minutes from the resort area. Hawaiians have always loved this beach with it's substantial reef for protection from the waves and the ancient cliffs protecting it from Makane (the wind). To visit the location, the road to the park is located at the 25.5 mile-maker on the main highway. Once down the mountain, Every turn in the road reveals delightful secret coves and lovely areas of beach sequestered away from view. Perfect for families wanting a safe day at the beach or those looking for a snorkeling adventure. The prize we feel, is at the end of the road where there is abundant privacy for an intimate wedding celebration. The beach is is long and and lined with trees to escape into the shade should the sun become too intense. A place where much love has been celebrated, your wedding too can be a peaceful, sacred celebration at one of our favorite Kauai beaches. Restrooms are near the camp grounds on the way to the ceremony area.
(couples should keep in mind, that these are BEACH restrooms- so no mirror and likely a wet sandy floor. Best to come dressed and ready for romance.)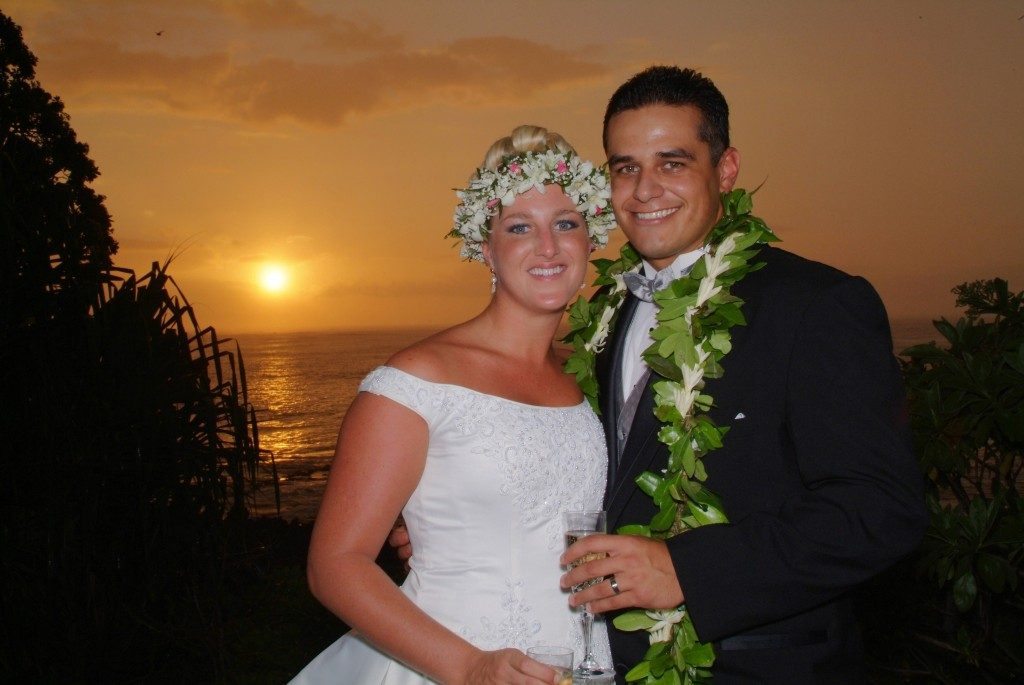 Shipwreck beach got its nickname long ago for an old schooner caught on the rocks at this amazing south shore beach. Keoneloa is its true Hawaiian name and while it is in a rather "civilized" resort area of Poipu, as soon as one steps onto the beach you can feel the ancient Mana (sacred energy) in the power of the waves making the rocks sing sweetly to greet you. Perfect for an early morning or sunset wedding, the beauty of this beach will touch your heart as you speak your words of love. Many stunning photo ops by the ocean, in the forest or on the majestic cliffs, will be forever etched in your soul.
Keoneloa translates as the long sands, but many locals say it means the HOT SANDS! The high lava content of this beach sometimes makes it unsuitable for mid-day weddings, hence our recommendation as a morning or sunset venue. Restrooms are located at the side of the beach park. Excellent nearby restaurants plus a luau at the Sheraton can make this location perfect for your Kauai wedding.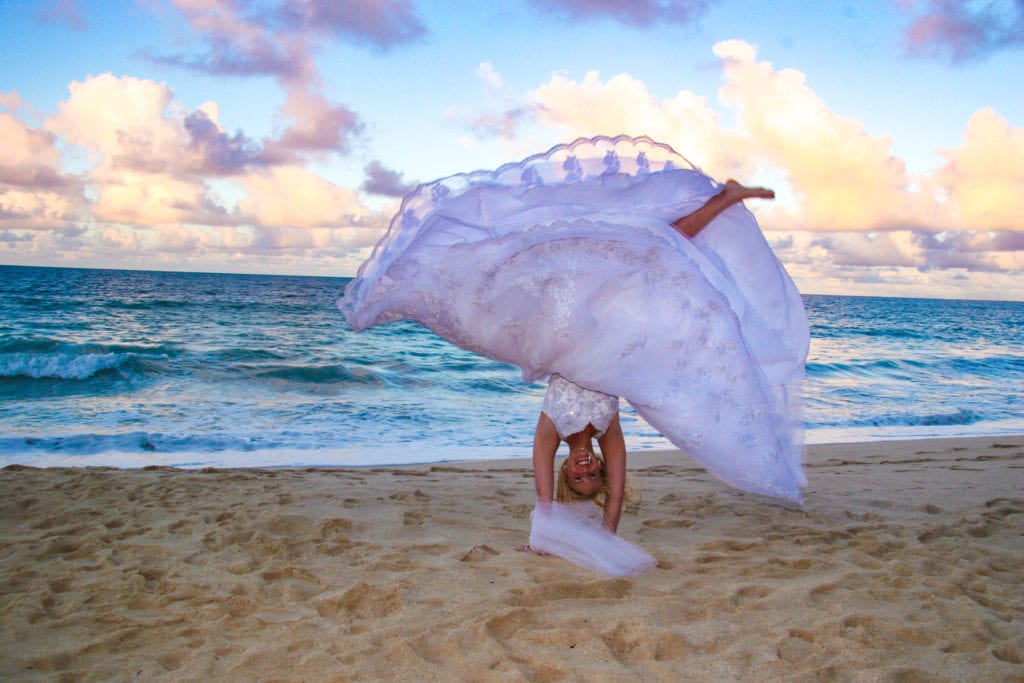 Anahola Beach is midway up the windward side of Kauai making it easily accessible from Waialua and Kapaa or for those staying in Princeville or Kilauea. This splendid beach features deep white sand , restless waves and perpetually cooling breezes.
Favored by locals, a long, curving bay with wide beaches lined with ironwood forests and superb sheltered coves at the south end, can provide a beautiful, secluded setting for your ceremony. Weddings are best here mid to late afternoon on a weekday.
Our couples are amazed at the magical ambiance of Anahola and have even have weddings visited by Hawaiian monk seals.
Restrooms are at the main part of the park, but no restaurants immediately nearby. However a short scenic drive of 15 minutes in either direction can have you back to civilization and culinary adventures.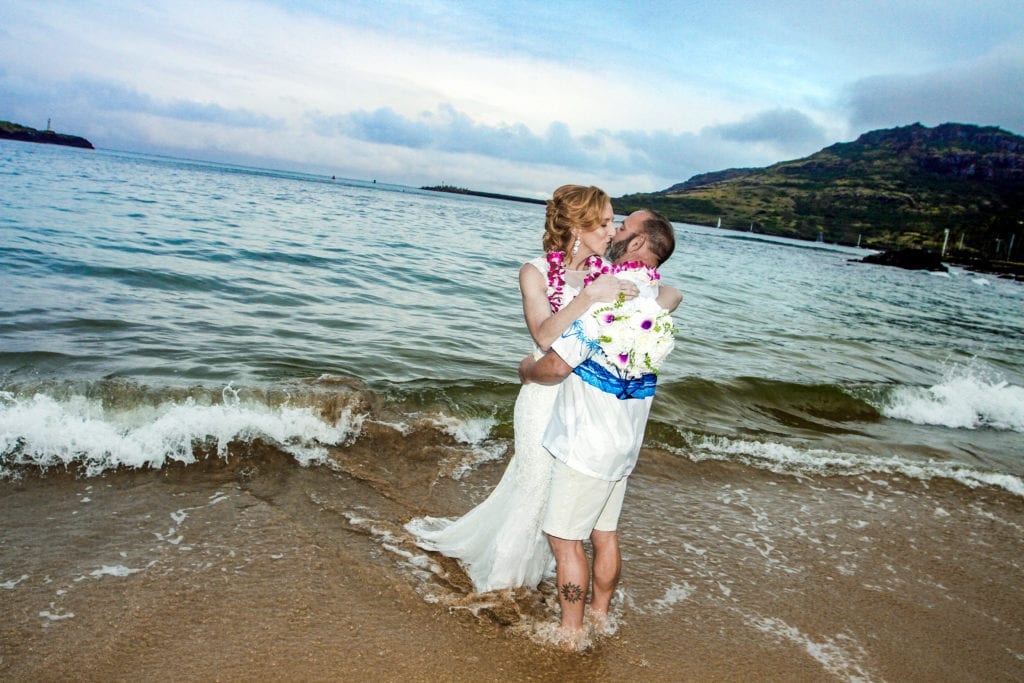 Kalapaki Beach is a recommended site for couples arriving on cruise ships or staying in the Marriott or resort area of Lihue. Kalapaki is a very joyful place with perfect waves for surfers and body boarders, and traditional Hawaiian Canoe paddling groups gather there as well to train for races. Even though much is happening all around, it is still an excellent location for a simple beach wedding. The wide expanse of beach guarantees that there will be elbow room, as everyone always makes way for a bride! Walking distance from some the island's best restaurants. Historically, the stories are endless about Kalapaki beach and Nawiliwili harbor, and your love story can become part of the many legends.
Check out our Kauai Wedding Packages page for more information about our Kauai Wedding, Kauai Vow Renewal, and Kauai Elopement Packages.
Kauai Wedding and Kauai Vow Renewal Packages
Our most requested Kauai Wedding and Kauai Vow Renewal Package. This Authentic Sacred Hawaiian wedding is filled with traditions of old Hawaii. On Top of everything you receive with our Barefoot Delight package you will also have the following included in your Sacred Kauai wedding package:

Brides Full Size Colorful Tropical Bouquet

Groom's Hawaiian Warrior Maile

Four Tiki Torches decorated with Tropical Flower

225 Copyright Free Images
$1,275
A wedding on Kauai is, without exaggeration, Heaven on Earth
Sweet Hawaii will create an Authentic Hawaii Wedding or Vow Renewal combining traditions, myths and legends of Old Hawaii.
Authentic Hawaiian is Sweet Hawaii's Passion! Our family has created traditional Hawaiian ceremonies since 1922 when Jacqueline's Grandmother Agnes was island famous for her local Hawaiian Weddings and Events. Three generations later the Magic carries on!
Thinking of the island of Kauai for your Vow Renewal or Wedding Ceremony? The pristine atmosphere of Kauai is absolutely the perfect setting for your celebration of LOVE.
Our Affordable Kauai Beach Weddings and Vow Renewals on the beach have no hidden fees. ALL pictures are copyright free. Sweet Hawaii Wedding ceremonies are STRESS FREE and FUN!
Love, Fun, Laughter. Happily Ever After!
Stress-free Wedding Planning, Breathtaking Beaches, and Authentic Hawaiian Traditions
Or customize your own unique Hawaii Beach Wedding, Elopement or Vow Renewal using the button below.