We can organize many different wedding flower arrangements for your Hawaiian Wedding day!
Bridal bouquets, corsages, haku head wreathes, maile leis and flower pathways.
A Hawaii beach wedding takes on a spirit of elegance and grace when flowers are used on your wedding day. A tropical Bridal Bouquet is a lovely accent for your magical day. Our Photographers use the bouquet as a prop for many of your photos. Plus, the smell and beauty that flowers bring to your Hawaii wedding is heavenly!
In Hawaiian culture it is believed that flowers are the Earth's way of smiling upon its beloved children. Flowers assure us of a creative force far beyond our everyday world that is orchestrating our very existence. These lovely creations remind us of the fragile and temporary, yet exquisitely beautiful existence we are all sharing in. We pride ourselves in arranging these beautiful gifts from nature into lovely creations so they gently add grace and charm to your special day.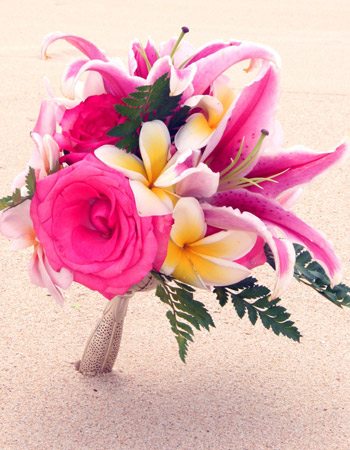 Any color or flower theme is possible.
Please scroll down to see some of our wedding flower choices.
Love, Fun, Laughter. Happily Ever After!
Stress-free Wedding Planning, Breathtaking Beaches, and Authentic Hawaiian Traditions
Or customize your own unique Hawaii Beach Wedding, Elopement or Vow Renewal using the button below.
Wedding Bouquets Photo Gallery