Barefoot Hawaii Beach Wedding in Paradise: Oahu and Kauai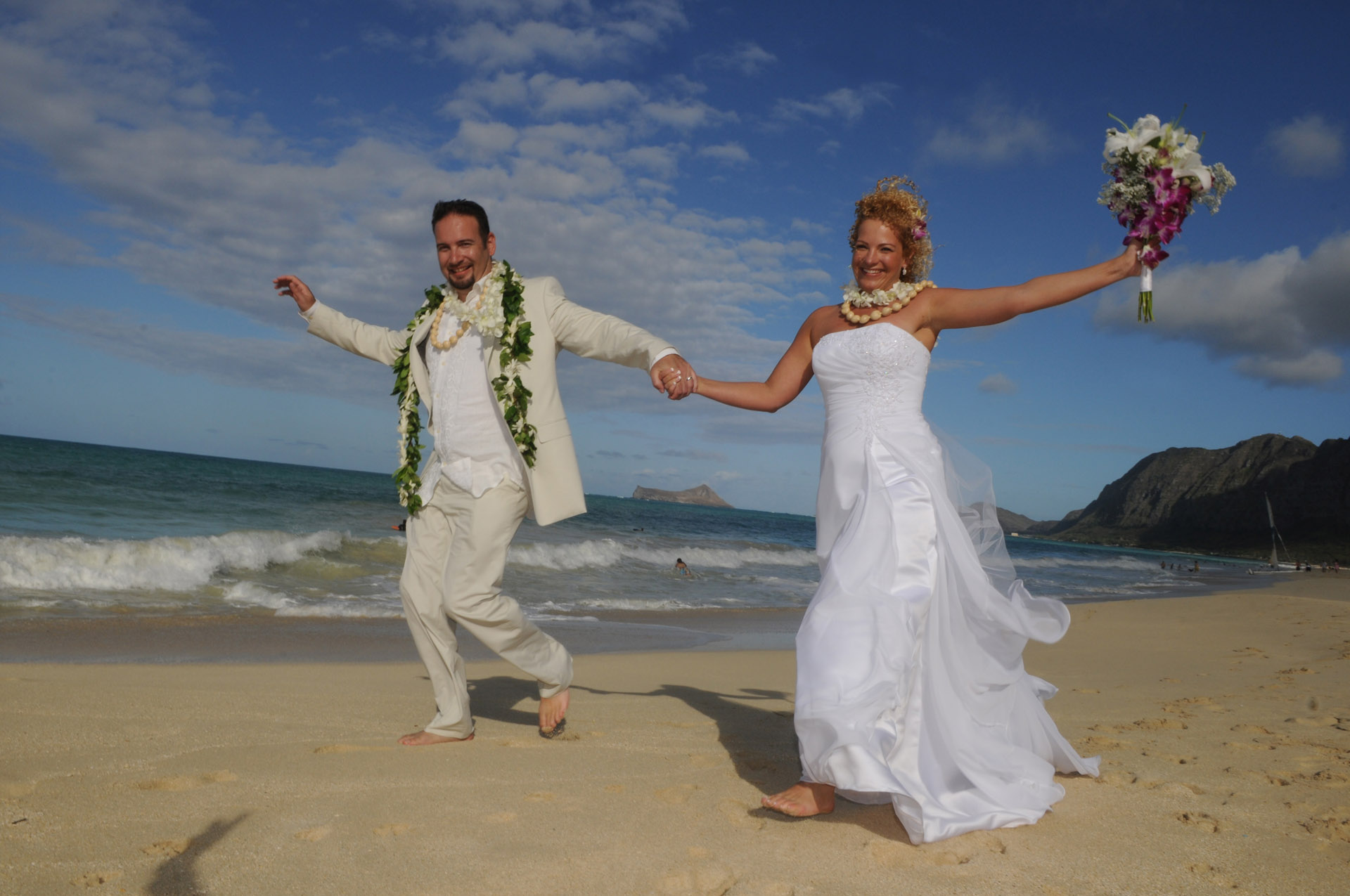 Just the two of you!
$595
With up to 10 guests!
$695
Our Barefoot Hawaii Beach Wedding in Paradise can be a perfect package in itself, or for many couples it is the foundation to create a masterpiece custom Hawaii wedding complete with all of the gorgeous embellishments you've always dreamed of.
With our Sweethearts in Paradise Package, you receive a minimum of 175 images with abundant posed and candid shots. In this Hawaiian wedding package we burn the images onto a disc right at the beach immediately after your Hawaii Beach wedding. Your entire Hawaiian Beach Wedding photo shoot is 100% yours with no copyright restrictions whatsoever! You do not need to come back to our office and view your photos and order more as is the policy of many of the new companies. We like to keep your Hawaii wedding simple, full of Hawaiian traditions and generously overflowing with professional photography! Simply look below and you can easily see we are generous in all of the amenities we provide for you!
You will receive a free quote for your wedding by filling out our booking form. You may also request a pay pal link for your deposit.
The Possibilities for your Oahu wedding and Kauai beach wedding are as endless as you imagination.
Look through our website and you will see a variety of enhancements. You may add decorated chairs, flower pathways, hearts, circles or peace signs in the sand, floral tiki torches, hair and make-up in your room, Island Musicians, limousines, colored sand ceremonies, gorgeous tropical bouquets and even butterflies.
Adding a wedding video captures every precious moment of your Hawaiian ceremony, so you can relive this sacred moment over and over.
An Oahu or Kauai beach wedding is a memory to cherish forever.
We are famous for our Creative Romantic Photography! Our photographers are experts in Hawaii beach weddings and they get the most photo opportunities from each of our locations. They know how to put our couples at ease so that the magic of your dream come true Hawaiian wedding day shines through. While they have many ideas for delightful photos, they also welcome your suggestions and creative vision.
If you are ready for a memory of a lifetime let Sweet Hawaii Wedding create a beach wedding on Oahu or a beach wedding on Kauai for you. We treat your Hawaii beach wedding day with meticulous care knowing it is the most important day of your life! Sweet Hawaii Wedding takes the stress from your Hawaiian Wedding day as we are an old established company with 3 generations of Hawaiian Wedding planning experience! And remember all of your Oahu and Kauai beach wedding photos are given to you immediately with no copy right restrictions at all.
Choice of your favorite Oahu Beach from the list of our locations.

Beach Permit service provided for you.

Coordination meeting on phone or in person before your wedding day.

Licensed Hawaiian Style Minister or Celebrant.

Ukulele player sings two songs for processional and recessional.

Conch shell blowing to announce your wedding ceremony.

Hawaiian Style or Traditional Vows.

Hawaiian Blessing of Rings with Turtle vessel with sand to hold rings during blessing.

Hawaiian Lei ceremony For Bride and Groom with Two fresh Orchid Leis.

Orchid leis with Ohana (family) Ceremony for children of the Bride and Groom.

Professional Photographer for (ONE FULL HOUR).

175 copyright free love story photos burned onto a CD (Your CD is burned for you right at the beach, no waiting to see your pictures or ordering in an office afterwards).

Traditional Hawaiian shell Wedding Leis (These sacred leis are to keep with you as a lifetime memento of your Hawaiian Wedding).

Hawaiian Prayer Chant and Blessing of marriage.

Sparkling Beverage for Toasting and Hawaiian Champagne Vessel.

Crystal Flutes for Toasting.

Three lovely long stem orchids for table decoration or (Can also be used as a Simple Bouquet).

Elegant Hand-calligraphy Hawaiian Certificate of Marriage signed by the Officiate (Suitable for framing).

Personalized Copy of Vows (Printed on elegant Parchment Paper).

Assistance with acquiring marriage license (before wedding).

Processing of Marriage License (after wedding).

Assistance with ideas for your reception.
You May Add Items Ala-Carte If the item you wish Is not listed here.