A Hawaii vow renewal ceremony is a wonderful way for you to deepen your commitment, bring more joy into your life and create a magical memory of everlasting Love.
175+ copyright-free photos given to you right after your Hawaii vow renewal ceremony.
We are famous for our creative, romantic, fun-loving, professional photography and magical Hawaii Vow Renewals. If your family is with you for your ceremony, this package also includes a professional beach vow renewal family photo session. Sweet Hawaii Wedding gives you 100% of your photos copyright-free. On the evening of your Hawaii vow renewal, you will receive a link to download all of your photos.
We handle all the details of your Hawaii beach vow renewal. Sweet Hawaii Wedding is a family wedding company and we understand how sacred the love between two people is. We honor your relationship and create a vow renewal ceremony that deepens your love while making beautiful memories that you both will cherish your entire life. If your family is with you, we will include your children in our unique "Ohana" Hawaii vow renewal ceremony. Your children will be honored and will receive fresh orchid leis at your celebration along with a blessing from your Hawaiian minister.
Everything needed for a perfect ceremony is included even in our simplest Hawaii vow renewal package.
All of our Hawaii beach vow renewal packages include:
Award Winning Professional Photography 175+ Images
Entire Photo Shoot is 100% Yours, Copyright Free (No need to buy more)
Licensed Hawaiian Minister (Kahu)
Blowing of a Conch Shell & Hawaiian Chanting
Live Ukulele Music and Hawaiian Songs
Fresh Orchid & Kukui Shell Leis for Hawaiian Lei Ceremony
If your Children are at your Ceremony they each receive an Orchid Lei Given by You along with a Blessing from Your Minister to Create a Magical Ohana Celebration.
Three Long Stem Orchid Bridal Bouquet
A First Toast
First Dance to Live Music
Beach Permit Provided
And Many More Delights
Check out all three of our value-packed Vow Renewal Packages. Each of these packages Includes Every Single Item Listed Above.
We offer the most affordable and value packed Hawaiian wedding packages and Hawaiian vow renewal packages on the islands.
Sweet Hawaii Wedding puts the "WOW" in Beach Vow Renewals on Oahu and Kauai.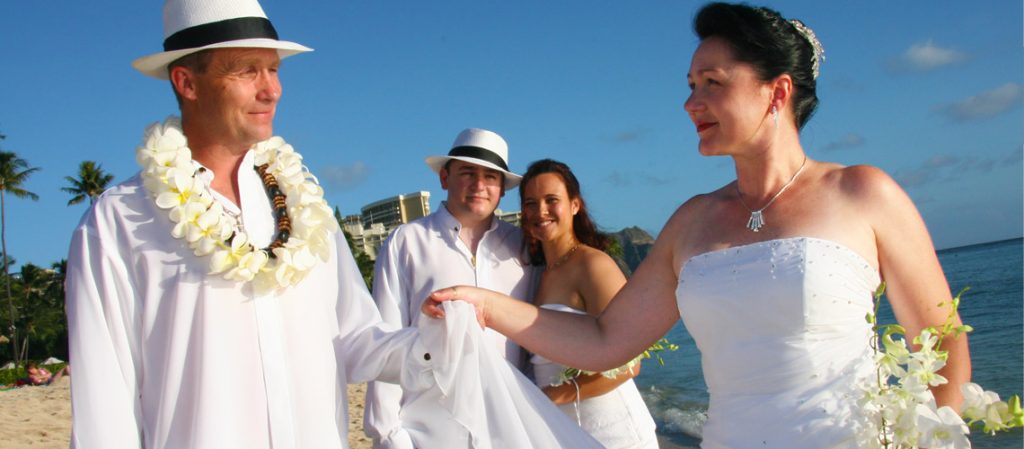 Kauai Beach and Oahu Beach Vow Renewal
A renewal of vows in Hawaii is romance at its best! Your intimate ceremony reaffirms the delight you still find in one another's company and is a powerful affirmation of the presence of everlasting love within your life. We at Sweet Hawaii Wedding encourage you to CELEBRATE life in every moment, and what better place than a beach in Hawaii? We are truly honored to be a part of your Hawaii vow renewal celebration and our promise to you is: to create a ceremony that is Sweet , full of LOVE and to capture the incredible essence of your splendid relationship! Whether a couple escaping for a romantic getaway, or an extended family wishing to celebrate together, we will help you create the perfect Hawaiian Vow Renewal package.
Please see our Barefoot Delight Package for an idea of the value-packed ceremonies we offer. We want your Hawaii vow renewal to be the perfect celebration for you! You may add many types of beautiful amenities to make this ceremony your own unique work of art! If the children of the couple are present, they are always included.
You may also see our Sacred Hawaii Packages or Hawaiian Arch Package. It's very easy to book: just fill out our online planner and you will receive a vow renewal quote from us. Please take an enjoyable stroll through our website and see the wonders of design and enchantment that Sweet Hawaii Wedding offers you for your vow renewal in Hawaii.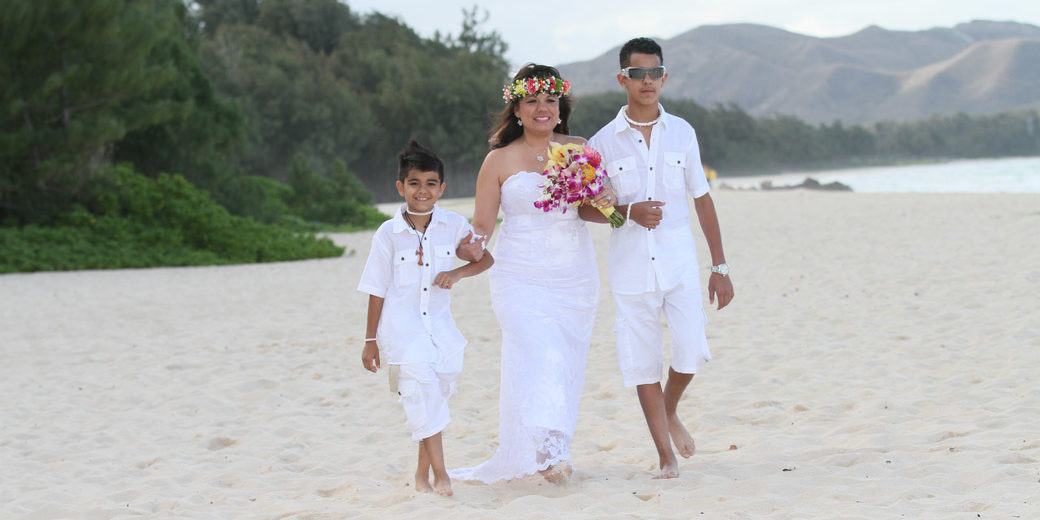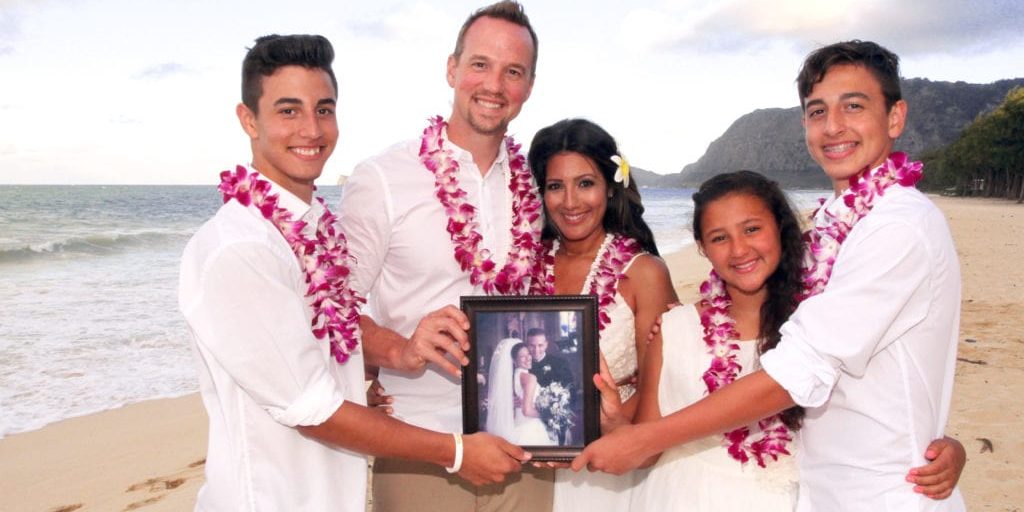 Imagine having your intimate Oahu or Kauai vow renewal on a secluded Hawaiian beach as you speak those magic words:
"I Do"…….. Once Again!
A Sweet Hawaii vow renewal is full of Joy, Romance and Fun. We are absolutely the premier specialists in Love Celebrations and creating Magical Memories for romantic couples, like you.
We design vow renewals on beaches in Kauai and Oahu, which are some of the world's most beautiful. Our professional photographers inspire treasured memories for you with joyful shots wading in the water holding hands or playing happily on the beach. Sweet Hawaii's photographers are experts at encouraging you to relax and have fun so you can enjoy every moment as they document your Hawaiian Vow Renewal. Our Vow Renewals are full of pure magical delight while also being very affordable. Every photo taken is completely yours, and uploaded to you via the internet that evening.
Vow Renewals in Hawaii are often the wedding that couldn't be afforded at the time of marriage. Let us know your heartfelt wishes and we can make them a reality.
For a few ideas to spark your imagination, see our Hawaii Wedding and Vow Renewal Amenities for extras to choose from to make this celebration your unique work of art. We encourage you to browse through our website enjoying your dreams of everlasting love.
Oahu or Kauai Vow renewals can range from a simple affair to having an Authentic handwoven Hawaiian Arch. Couples that married in a hurry for various reasons, often have a more elaborate celebration for their vow renewal several years later when they are more financially established or have more time and money to devote to their celebration.
The possibilities for your Hawaiian Wedding or Hawaiian Vow Renewal are as endless as your imagination. All of our packages include everything needed for a complete beautiful wedding or vow renewal in Hawaii but if you want to add something else, we offer a number of amenities that can be added on our booking form.
We have a treasure of joyous amenities to choose from. You can add any of these to your package to create your dream ceremony.
Hair and Make-up
Additional Flowers, Leis and Ceremony Bouquets
Video
Hawaiian Palm Arch woven especially for you by your Minister
Flower Pathways
Limos
Hearts and Circles made from Real Tropical Flowers
Tiki Torches with a variety of Tropical Flowers decorating your Sacred Space
Live Entertainment: Hula dancers, Musicians, Fire Dancers
Cakes
Much more
You name it we have it!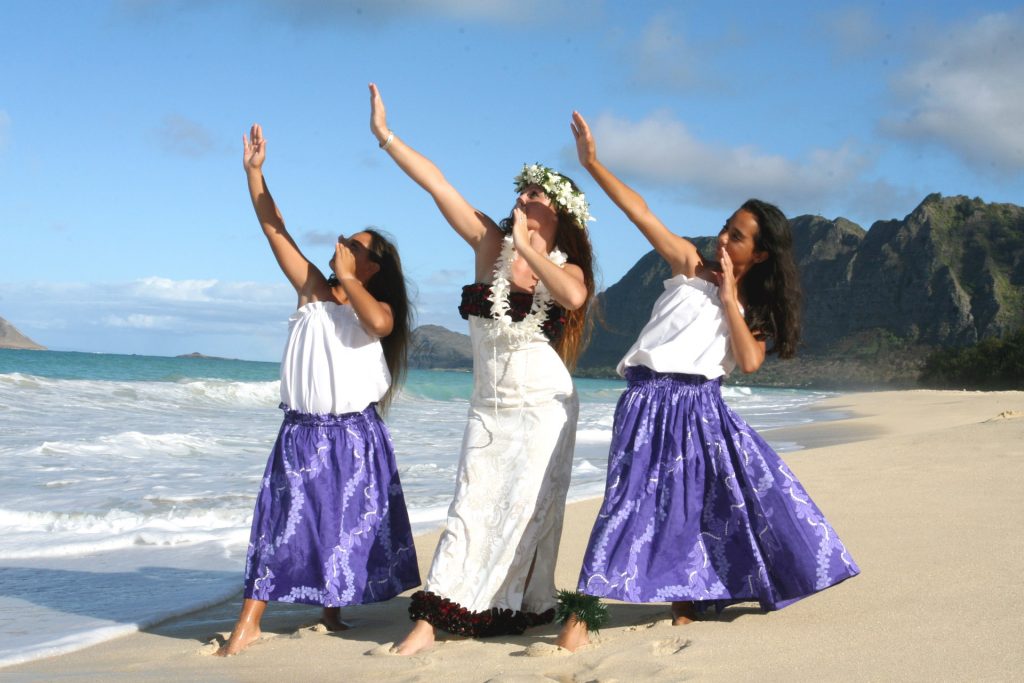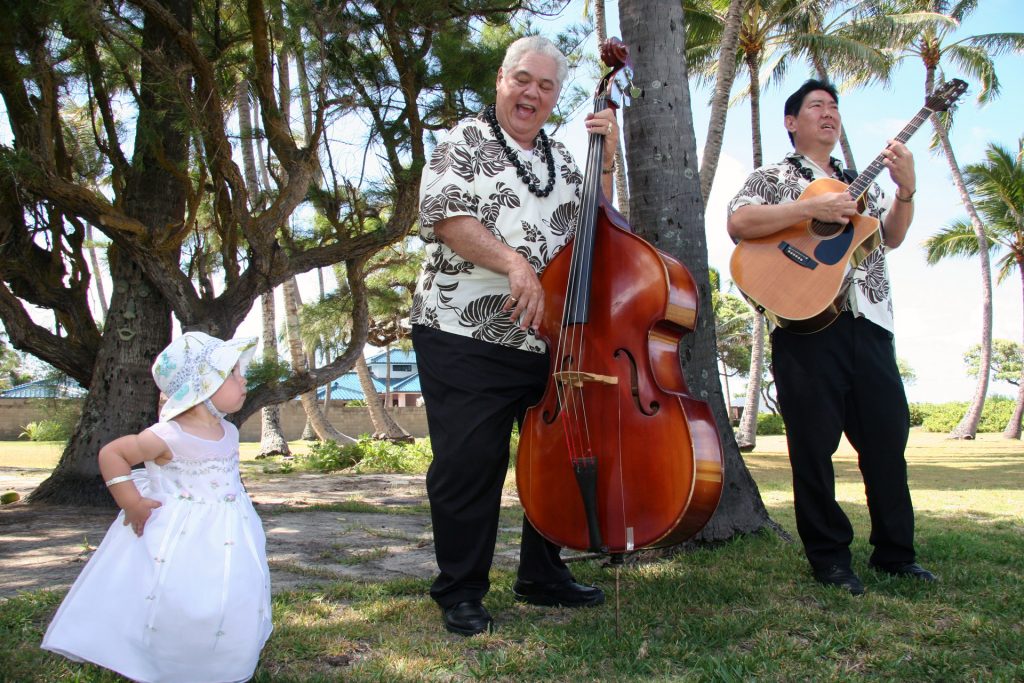 Love, Fun, Laughter. Happily Ever After!
Stress-free Wedding Planning, Breathtaking Beaches, and Authentic Hawaiian Traditions
Or customize your own unique Hawaii Beach Wedding, Elopement or Vow Renewal using the button below.
Sweet Hawaii Vow Renewal Ceremony
With our Hawaiian Vow Renewal ceremony you are on the beach with us over an hour from beginning to end to allow for photography before, during and after your celebration. Your vow renewal in Kauai or Oahu includes a mediation taking you all the way back to
when you first met and pledged your love to one another. Love, Joy and Humor are always present at your beach vow renewal ceremony in Hawaii. There are also many Hawaiian elements of spirituality that are woven into your Oahu or Kauai vow renewal.
Our Hawaiian minister plays beautiful music on his Ukulele and blows the conch shell to announce your ceremony. There is also a lovely lei ceremony which includes many words in Hawaiian. If your children are present they are included in our Ohana (family) celebration with a blessing and a fresh orchid lei for each child. There is also a blessing of your rings along with Hawaiian prayer songs. Your Hawaiian minister will make you feel comfortable and at peace by getting to know you, how you met and a bit about your life together. He will perform a beautiful Hawaiian vow renewal with Hawaiian traditions of love and commitment. All together, the ceremony itself will last around 20-25
minutes. If you have someone who has departed recently whom you wish to acknowledge at your ceremony your minister will blow the conch shell at the end of your ceremony while you place a lei in the ocean as a memorial. Below is a tiny sample of the words for your Hawaiian vow renewal ceremony.
When you first joined hands and hearts
on your wedding day, you did not know where
life would take you. You promised to love,
honor and cherish one another through
all things. Life has surely brought
you both occasional challenges and wonderful
blessings. Therefore, you have fulfilled your
promise and the many faces of God all are smiling!
So, as you come to this beach today to reaffirm your
wedding vows and as you reflect back over your
time as husband and wife, do you now reaffirm
the vows you took on your wedding day?
If so, repeat after me.
"You are mine, my love, and I am yours, as
ordained by the creator from the beginning of time.
Destiny brought us together, love kept us together.
You are the universe's gift to me, my priceless
treasure, my blessing for life. May the Great Spirit
bless us as we renew our pledge of love
to one another, eternally."
Sweet Hawaii loves any input you have and personal ideas you want included in your ceremony. After the Kahu says his Hawaiian vows many couples want to say something to each other very personal. It's entirely up to you. Your vow renewal in Kauai or Oahu is your unique ceremony and it is your love that shines and sparkles on the beach during your ceremony.
Your photography session is a full hour of romance and fun-loving, playful photos.
It's the Hawaiian way of "Aloha" Love..
Hang loose in Hawaii!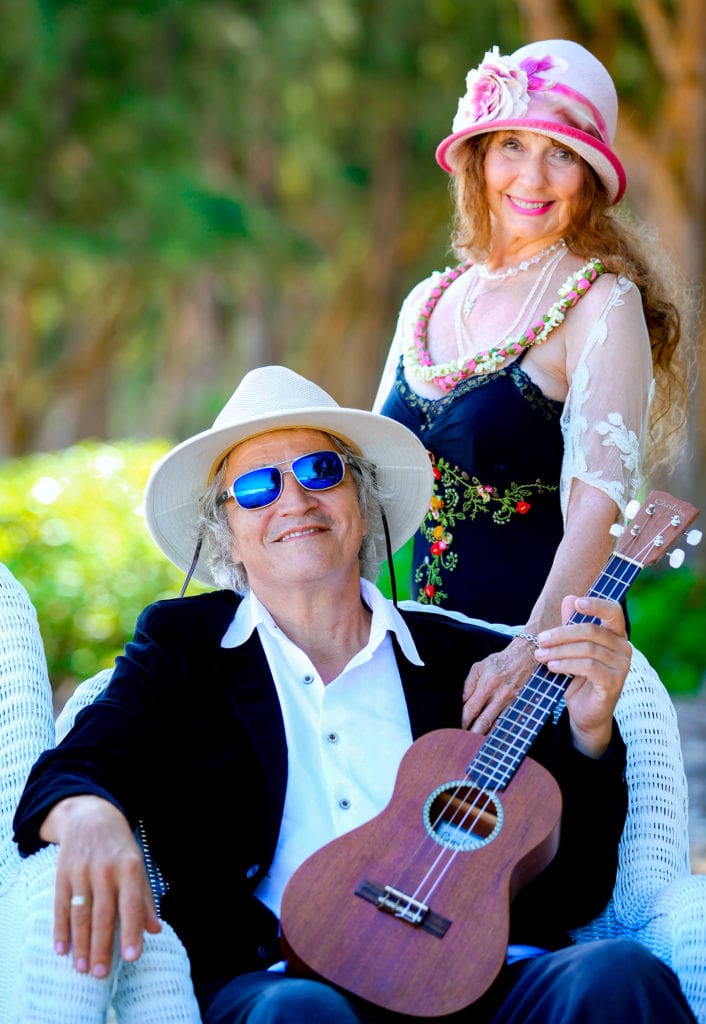 We are proud to be a "third generation" wedding family with heart. A wedding family that is as far away from the corporate world as you can possibly get.
We believe in Stress Free weddings and Living in the Eternal Moments of Love. If your philosophy is in Harmony with ours, please consider booking one of our amazing value packed Hawaii Wedding or Vow Renewal Packages.
Our ceremonies are full of Hawaiian traditions, with Aloha bubbling from the heart and you generously receive an inexpensive Hawaii wedding package that is overflowing with professional photography! Remember, we are an old established generational wedding company! We have been in the wedding business since 1922.
WE ARE EXPERIENCED IN LOVE!
Wedding Vow Renewal Photo Gallery