Hawaii Wedding Packages
Hawaii Vow Renewal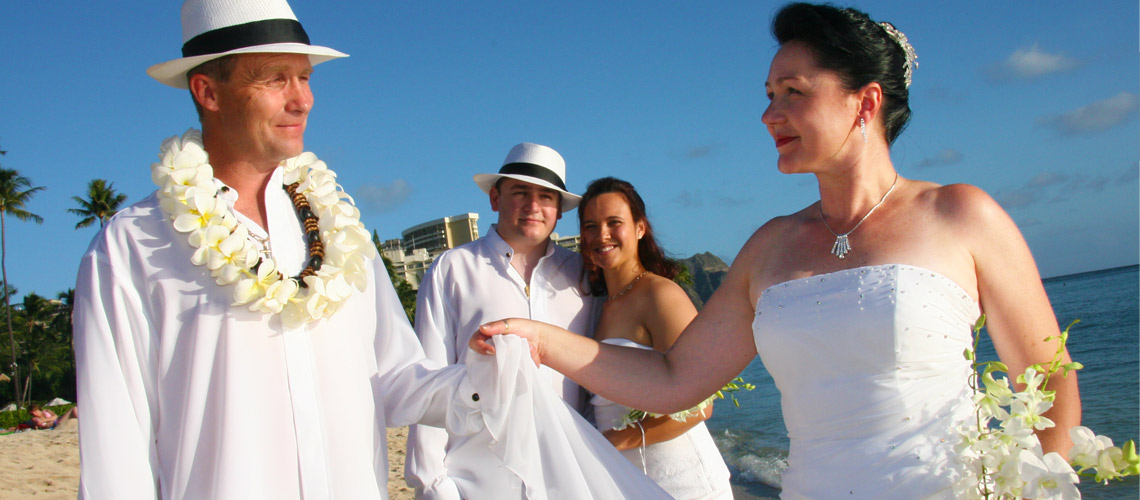 Celebrate your Kauai or Oahu Vow Renewal in Hawaii with a magical and Sacred Ceremony on the beach.
Kauai Beach and Oahu Beach Vow Renewal
A Vow renewal is something that is not necessary, that is, it is not for any legal purpose, but this can make such a ceremony much more meaningful. You are having a vow renewal to say to one another: "We are in love and we celebrate this joy together after many trials and wonderful moments, it is the love and wonder that has prevailed!"
175 Copyright-free photos given to you at your ceremony!
We are famous for our Creative Romantic Photography! What also sets us apart? Couples do NOT have to come back to our office after their wedding to order additional photos. Sweet Hawaii Wedding gives all copyright Free photos immediately! Believe it or not, up-selling is standard practice for many wedding companies that appear to have good prices. With Sweet Hawaii your precious wedding pictures are not held for ransom but are given to you in their entirety immediately after your ceremony and photo session.
Now for the romance. Imagine having your intimate Oahu or Kauai wedding with just the two of you, or with close friends and family, on a secluded Hawaiian beach far removed from the normal stress and worries of the world. As you say "I do" at your Oahu beach wedding or your Kauai wedding on the beach you feel the sweet sensation of your toes upon the soft white sands, wet your feet in the crystal clear warm waters and enjoy the fragrance of exotic flowers within the island's topical breeze.
Our Affordable Kauai & Oahu Beach Weddings Are Pure Heaven And Include ALL Of These Extras ! Plus You May Add Items Ala-Cart If The Item You Wish Is Not Listed Here !
Imagine re-affirming your love and commitment with a Hawaiian vow renewal ceremony on a beautiful tropical beach in Honolulu, Waikiki or Kauai…
A vow renewal ceremony is a wonderful way for you to further deepen your commitment and create a magical memory of everlasting love.

A renewal of vows in Hawaii is romance at its best! Your intimate ceremony reaffirms the delight you still find in one another's company and is an affirmation of the presence of everlasting love within your life. If you are celebrating only one year together or as many as fifty, your celebration brings enchantment into your life. Together you are creating memories and moments full of romance and ever-deepening love. We at Sweet Hawaii Wedding encourage you to CELEBRATE life in every moment and bring forth memories that are rich in feelings of endearment and joy! We believe the only thing in life that is truly real is LOVE and we believe in celebrating love whenever we have a chance. We are honored to be a part of your vow renewal celebration and our promise to you is to create a vow renewal ceremony that is Sweet and full of LOVE!
Please see our Sweetheart basic package for an idea of the value packed package we offer you. You can also add ala cart items to this package to make it the perfect ceremony for you!
You may also see our Sacred Hawaii Packages or Chapel Package for added amenities. Please take an enjoyable stroll through our website and see the wonders of design and magic that Sweet Hawaii Wedding offers you for your vow renewal in Hawaii.
Choice of your favorite Oahu Beach from the list of our locations.

Beach Permit service provided for you.

Coordination meeting on phone or in person before your wedding day.

Licensed Hawaiian Style Minister or Celebrant.

Ukulele player sings two songs for processional and recessional.

Conch shell blowing to announce your wedding ceremony.

Hawaiian Style or Traditional Vows.

Hawaiian Blessing of Rings with Turtle vessel with sand to hold rings during blessing.

Hawaiian Lei ceremony For Bride and Groom with Two fresh Orchid Leis.

Hawaiian Lei ceremony For Bride and Groom with Two fresh Orchid Leis.

Orchid leis with Ohana (family) Ceremony for children of the Bride and Groom.

Professional Photographer for (ONE FULL HOUR).
175 Copyright Free Professional Photos. (Your entire photo shoot is uploaded via WE-TRANSFER and you are sent an email on the evening of your wedding so you have total access to all of your photos. The entire photo session is copyright free. This means you do not need to purchase photos from us in the future as with many wedding companies.)

Traditional Hawaiian shell Wedding Leis (These sacred leis are to keep with you as a lifetime memento of your Hawaiian Wedding).

Hawaiian Prayer Chant and Blessing of marriage.

Sparkling Beverage for Toasting and Hawaiian Champagne Vessel.

Crystal Flutes for Toasting.

Three lovely long stem orchids for table decoration or (Can also be used as a Simple Bouquet).

Elegant Hand-calligraphy Hawaiian Certificate of Marriage signed by the Officiate (Suitable for framing).

Personalized Copy of Vows (Printed on elegant Parchment Paper).

Assistance with ideas for your reception.

You May Add Items Ala-Carte If the item you wish is not listed here.
Any of our Hawaii Wedding Packages can be used for your Oahu vow renewal or your Kauai vow renewal ceremony.
We have a large range of Hawaii Wedding Locations as well as Kauai Wedding Locations. To help create your vow renewal on Kauai or your vow renewal on Oahu we have treasures of joyous amenities such as:
chapel built especially for you

peace signs, hearts and circles made from flowers
tiki torches with a variety of tropical flowers decorating your sacred space
For a few ideas to spark your imagination, see our Hawaii Wedding Amenities for extras for you to choose from. We encourage you to browse through our website enjoying your dreams of everlasting love!!!
Oahu or Kauai Vow renewals can range from a simple affair to having a full floral arch (Chapel in the Sand). Couples that married in a hurry for various reasons, often have a more elaborate celebration for their vow renewal several years later when they are more financially established or have more time to devote to the planning.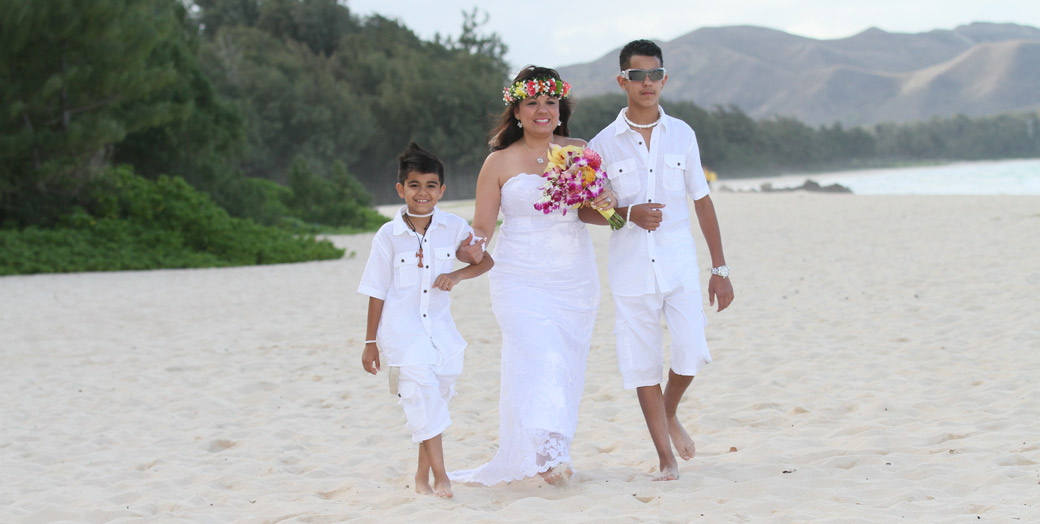 A vow renewal in Hawaii often is the wedding that could not be afforded at the time of marriage. You let us know your heartfelt wishes and we take care to make these wishes a reality for you.
Choosing Your Vow Renewal Words
We can assist with choosing vow renewal words, or you can choose your own. The ceremony lasts aprox. 20 minutes with a mediation taking you all the way back to when you first met and pledged your love to one another. There are many Hawaii elements of spirituality that are woven into your Hawaiian vow renewal. Below is a tiny sample taste of the vow renewal we offer.
When you first joined hands and hearts
on your wedding day, you did not know where
life would take you. You promised to love,
honor and cherish one another through
all things. Life has surely brought
you both occasional challenges and wonderful
blessings. Therefore, you have fulfilled your
promise and the many faces of God all are smiling!
So, as you come here today to reaffirm your
wedding vows and as you reflect back over your
time as husband and wife, do you now reaffirm
the vows you took on your wedding day?
If so, repeat after me.
"You are mine, my love, and I am yours, as
ordained by the creator from the beginning of time.
Destiny brought us together, love kept us together.
You are the universe's gift to me, my priceless
treasure, my blessing for life. May the Great Spirit
bless us as we renew our pledge of love
to one another, eternal."
Wedding Vow Renewal Photo Gallery