Sweet Hawaii Vow Renewals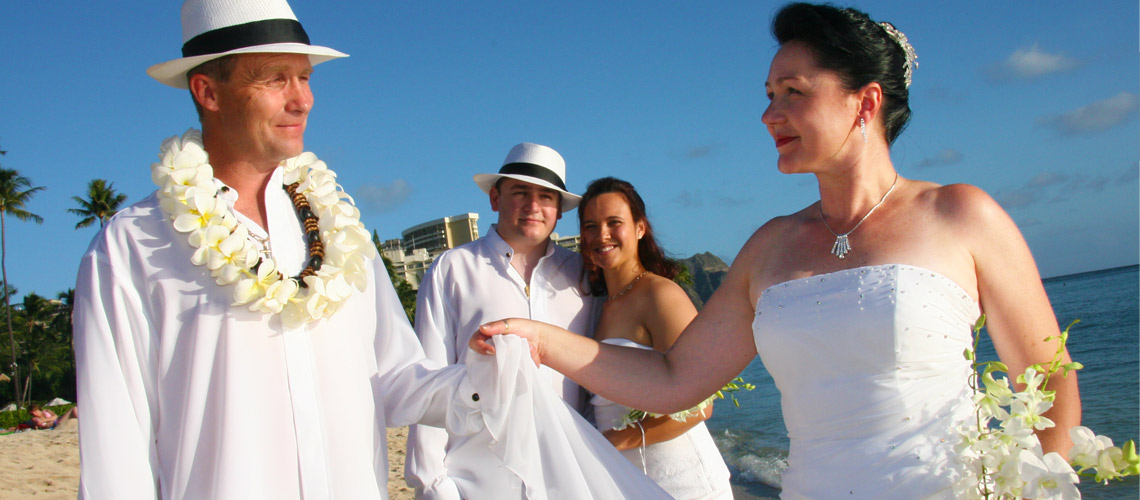 Celebrate your Kauai or Oahu Vow Renewal in Hawaii with a Sacred Ceremony on the beach.
A Vow renewal is something that is not necessary, that is, it is not for any legal purpose, but this can make such a ceremony much more meaningful. You are having a vow renewal to say to one another: "We are in love and we celebrate this joy together after many trials and wonderful moments, it is the love and wonder that has prevailed!"
175 Copyright-free photos given to you at your ceremony!
We are famous for our Creative Romantic Photography. What also sets us apart? Couples do NOT have to come back to our office after their wedding to order additional photos. Sweet Hawaii Wedding gives all copyright Free photos immediately. Believe it or not, up-selling is standard practice for many wedding companies that appear to have good prices. With Sweet Hawaii your precious wedding pictures are not held for ransom but are given to you in their entirety immediately after your ceremony and photo session.
Now for the romance. Imagine having your intimate Oahu or Kauai wedding with just the two of you, or with close friends and family, on a secluded Hawaiian beach far removed from the normal stress and worries of the world. As you say "I do" at your Oahu beach wedding or your Kauai wedding on the beach you feel the sweet sensation of your toes upon the soft white sands, wet your feet in the crystal clear warm waters and enjoy the fragrance of exotic flowers within the island's topical breeze.
A vow renewal ceremony is a wonderful way for you to further deepen your commitment and create a magical memory of everlasting love.
Our affordable Kauai and Oahu Beach Weddings and Vow Renewals are pure heaven and include ALL of these extras! Plus you may add items a la cart if the item you wish is not listed here!

Kauai Beach and Oahu Beach Vow Renewal
A renewal of vows in Hawaii is romance at its best! Your intimate ceremony reaffirms the delight you still find in one another's company and is an affirmation of the presence of everlasting love within your life. If you are celebrating only one year together or as many as fifty, your celebration brings enchantment into your life. Together you are creating memories and moments full of romance and ever-deepening love. We at Sweet Hawaii Wedding encourage you to CELEBRATE life in every moment and bring forth memories that are rich in feelings of endearment and joy! We believe the only thing in life that is truly real is LOVE and we believe in celebrating love whenever we have a chance. We are honored to be a part of your vow renewal celebration and our promise to you is to create a vow renewal ceremony that is Sweet and full of LOVE!
Please see our Barefoot Delight Package for an idea of the value packed package we offer you. You can also add ala cart items to this package to make it the perfect ceremony for you!
You may also see our Simply Sacred Hawaii Packages or Hawaiian Arch Package for added amenities. Please take an enjoyable stroll through our website and see the wonders of design and magic that Sweet Hawaii Wedding offers you for your vow renewal in Hawaii.
The possibilities for your Hawaiian Wedding or Hawaiian Vow Renewal are as endless as your imagination. All of our packages include everything needed for a complete beautiful wedding or vow renewal in Hawaii but if you want to add something else, we offer a number of amenities that can be added on our booking form.
We have a treasure of joyous amenities to choose from. You can add any of these to your package to create your dream ceremony.
Hair and Make-up
Additional Flowers, Leis and Ceremony Bouquets
Video
Hawaiian Palm Arch woven especially for you by your Minister
Flower Pathways
Limos
Hearts and Circles made from Real Tropical Flowers
Tiki Torches with a variety of Tropical Flowers decorating your Sacred Space
Live Entertainment: Hula dancers, Musicians, Fire Dancers
Cakes
Much more
You name it we have it!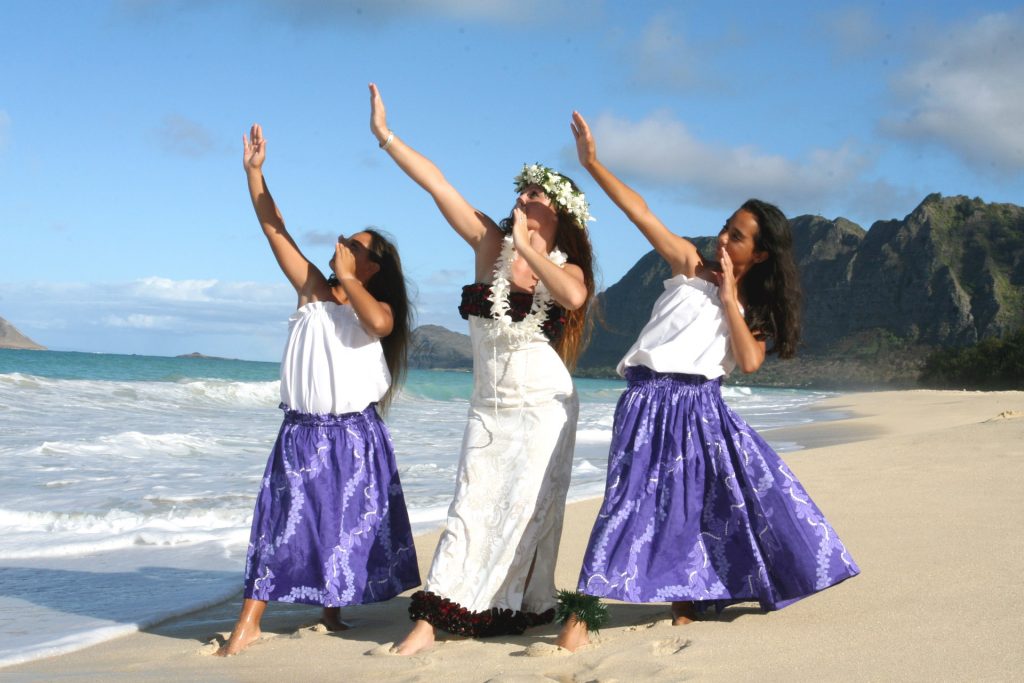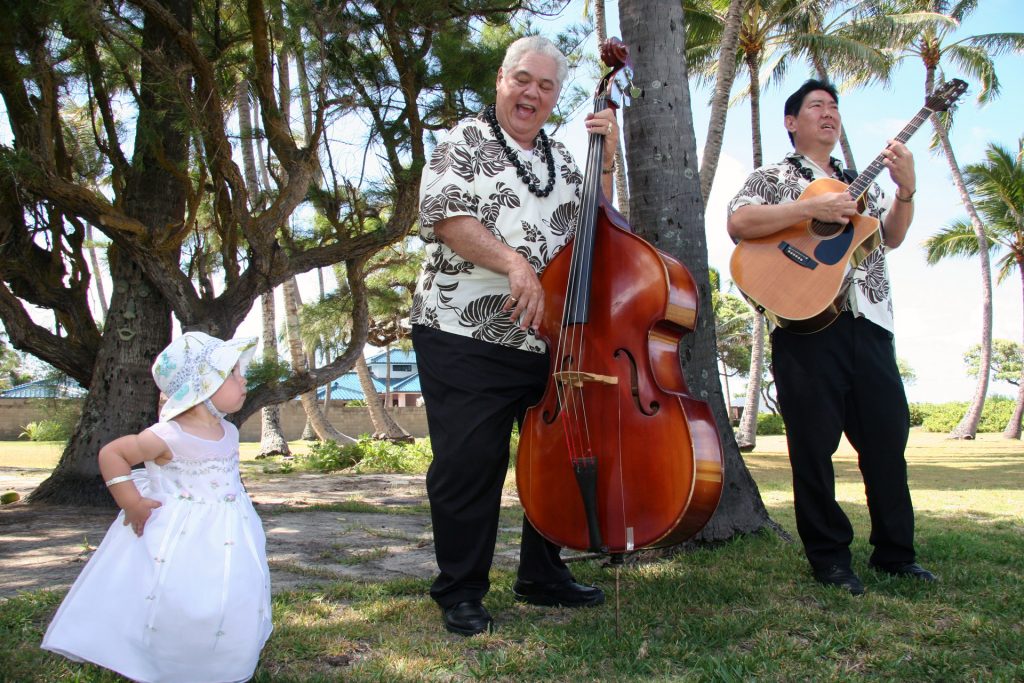 For a few ideas to spark your imagination, see our Hawaii Wedding and Vow Renewal Amenities for extras for you to choose from. We encourage you to browse through our website enjoying your dreams of everlasting love!!!
Oahu or Kauai Vow renewals can range from a simple affair to having a full floral arch (Chapel in the Sand). Couples that married in a hurry for various reasons, often have a more elaborate celebration for their vow renewal several years later when they are more financially established or have more time to devote to the planning.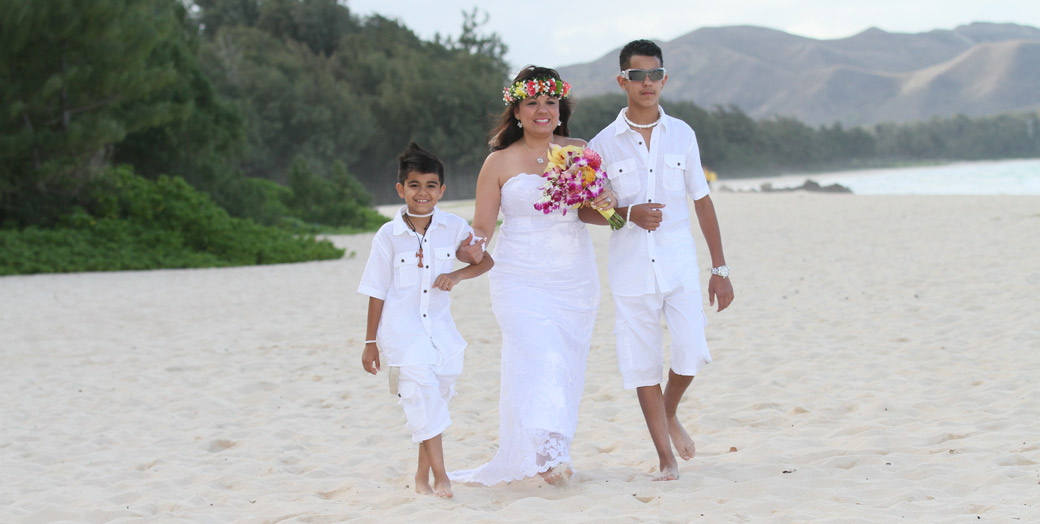 Vow Renewals in Hawaii are often the wedding that couldn't be afforded at the time of marriage. You let us know your heartfelt wishes and we can make these wishes a reality.
Love, Fun, Laughter. Happily Ever After!
Stress-free Wedding Planning, Breathtaking Beaches, and Authentic Hawaiian Traditions
Call Us Today: (808) 436-8642
Or customize your own unique Hawaii Beach Wedding, Elopement or Vow Renewal using the button below.
Choosing Your Vow Renewal Words
We can assist with choosing vow renewal words, or you can choose your own. The ceremony lasts aprox. 20 minutes with a mediation taking you all the way back to when you first met and pledged your love to one another. There are many Hawaii elements of spirituality that are woven into your Hawaiian vow renewal. Below is a tiny sample taste of the vow renewal we offer.
When you first joined hands and hearts
on your wedding day, you did not know where
life would take you. You promised to love,
honor and cherish one another through
all things. Life has surely brought
you both occasional challenges and wonderful
blessings. Therefore, you have fulfilled your
promise and the many faces of God all are smiling!
So, as you come here today to reaffirm your
wedding vows and as you reflect back over your
time as husband and wife, do you now reaffirm
the vows you took on your wedding day?
If so, repeat after me.
"You are mine, my love, and I am yours, as
ordained by the creator from the beginning of time.
Destiny brought us together, love kept us together.
You are the universe's gift to me, my priceless
treasure, my blessing for life. May the Great Spirit
bless us as we renew our pledge of love
to one another, eternal."
Wedding Vow Renewal Photo Gallery