Hawaii Weddings – Eloping Has Its Advantages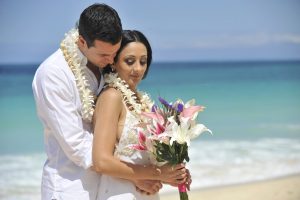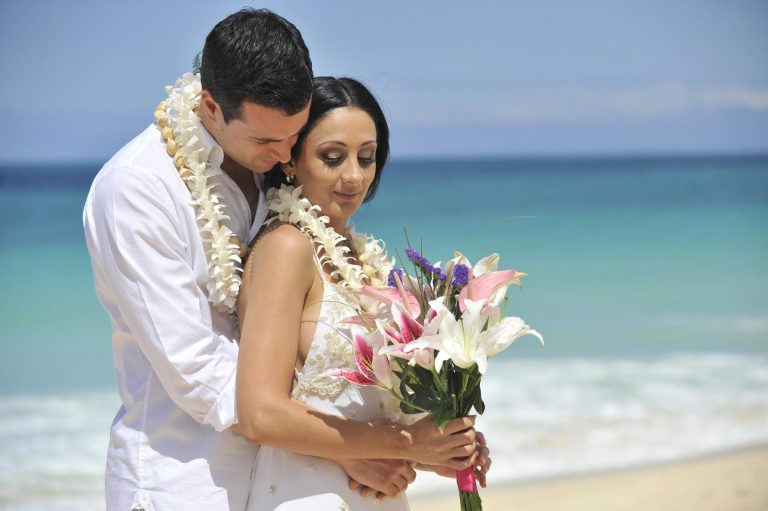 At Sweet Hawaii Wedding, we understand that many couples choose to marry far away from home, without the presence of hundreds of guests or the approval of family. Called 'eloping' in the old days, Hawaii weddings are one of the best ways to ensure you enjoy a memorable wedding that is completely you, one that you and your partner will remember fondly forever.
Perhaps you want to join with your significant other in front of just a few family members, or your best friends. There are some very good reasons that many couples choose to wed away from their state of residence, including:
Destination weddings in Hawaii are virtually stress-free. Whether you want simple, fast, or both, a destination wedding does away with the intensive planning involved in a traditional wedding. When you marry in Oahu or choose a Waikiki Beach wedding, you can enjoy a wonderful wedding AND honeymoon without leaving the state. Many Hawaii destination wedding providers offer packages for every budget, and planners who take care of all of the details. You avoid the stress and logistics of planning a traditional wedding!
Avoid family drama. Who will your bridesmaids be? Who's going to give me away? Do I have to invite everyone in the family? There are many negatives connected to traditional weddings. When you choose a destination wedding in Oahu or any location in Hawaii, you can enjoy the most memorable day of your life without the family drama.
Cost effective. Traditional weddings can cost as much as purchasing a home, depending on the number of people you invite and how "fancy" the wedding is. On average, a traditional wedding including 150 guests costs about $30,000. By choosing a destination wedding instead, you can save tens of thousands and still enjoy elegant lodging, plenty of activities and night life, drinks, airfare, and more – and still come out way ahead.
You are totally in control. Couples who choose an Oahu wedding "call the shots," so to speak. Whether you want to become one on the beach or at a spectacular waterfall, you can enjoy a ceremony that truly reflects your own and your partner's desires. Family members may think a traditional church wedding is the only way to go, yet you truly desire a more casual affair, marrying in a tropical paradise surrounded by nature. It's your wedding, shouldn't you choose?
Perhaps you are getting married for a second time. Many who have been married previously prefer a less formal affair. With a Hawaii destination wedding, you can enjoy a wedding that is as casual or fancy as you like! Our wedding packages are suitable for every budget, and make it possible for you to live your dream wedding without all of the hassle and drama.