Hawaii Wedding – is an Oahu Beach Wedding Your Dream?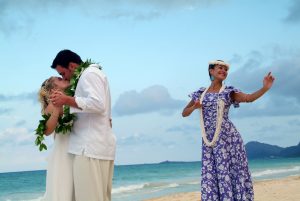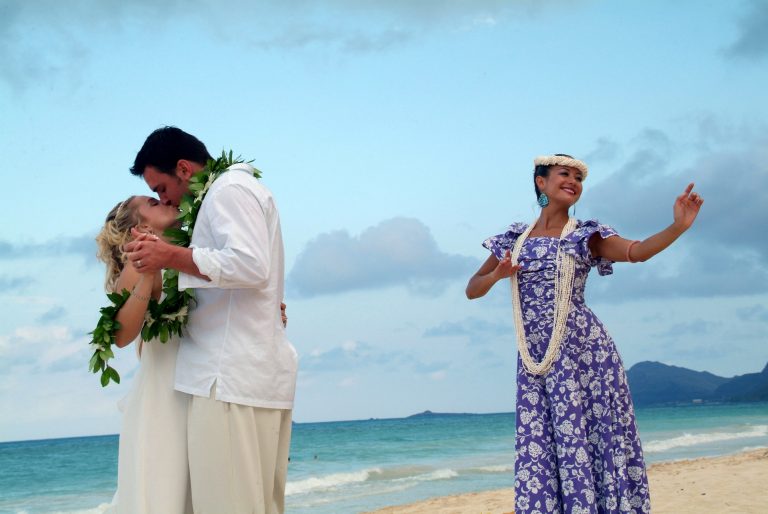 At Sweet Hawaii Wedding, we know that for many brides (and grooms), an Oahu beach wedding sounds like a dream. It's no wonder so many couple choose to wed in the 50th state of the union, given Hawaii's world class beaches, beautiful weather year-round, and gorgeous, dramatic sunsets.
While there are countless breath-taking spots on any of our five islands, an Oahu beach wedding is chosen by many for a multitude of reasons. First, Honolulu is located on Oahu, along with Waikiki for those who are looking for plenty of activities to engage in both before and after the wedding. It's important to keep the enjoyment of your guests in mind; after all, you don't want them to get bored! If you're looking for an amazing nightlife scene (perhaps for your honeymoon following the wedding), or love entertainment, Oahu is the island offering the most, while still packed with native culture and beautiful landscapes only Mother Nature could have invented.
To put it simply, Oahu has all there is to offer and then some. Often referred to as "The Gathering Place," Oahu offers cultural heritage, all of the modern luxuries you could want, historical significance, and of course, iconic beaches. An Oahu beach wedding makes it possible for you to enjoy the wedding you've dreamed of all your life, while enjoying beautiful vistas, breathtaking beaches, and the "big city" atmosphere.
Perhaps you would love to surf while on Oahu, or even learn to surf with your new spouse after the wedding. From Waimea Bay and Sunset Beach to Pipeline and Banzai Beach, there is no shortage of waves to ride! Plenty of golfing available as well, for those who are passionate about the sport.
There are many choices for your Hawaii wedding, but nothing is as romantic as an Oahu Beach wedding. Dress up, go casual, even go barefoot and enjoy the sand between your toes. Whether you get married in the afternoon or at sunset, your surroundings will only add to the romance and magic of the moment. To learn more about our Oahu wedding packages, contact Sweet Hawaii Wedding today!