Hawaii Beach Wedding Packages Make It Affordable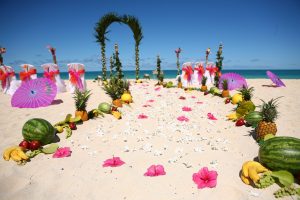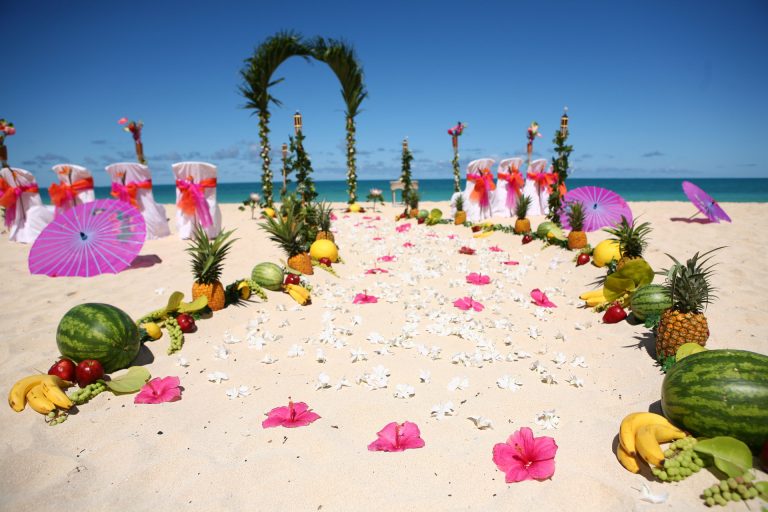 Whether you live in Texas, California, Minnesota, New York, or even Canada, you may have dreamed of a Hawaii wedding since you were old enough to realize what getting married was all about. Those who have never visited our beautiful islands cannot even begin to imagine the exquisite landscapes, pristine beaches, and tropical surroundings that make Hawaii one of the most popular destinations in the world not only for vacations, but weddings as well. However, you may be worried that now that the time has come, you may not be able to afford a Hawaii beach wedding. At Sweet Hawaii Wedding, our wedding packages are designed to make it possible for you to live your dream!
We offer a wide array of packages to choose from, including our Barefoot Beach wedding package that makes it possible for you to wed for hundreds of dollars instead of thousands, and even customize your wedding by adding on embellishments such as flower pathways, hair and make-up, musicians – you can keep it as simple as you like, or make it as fancy as you like! It's really all up to you.
With our Sweethearts in Paradise Oahu and Kauai beach weddings, you have the option of choosing from any of our beach or park locations. If the wedding will consist of only you and your sweetheart, you can enjoy a romantic Hawaii beach wedding for only $595 that includes the basics. Have family and friends you want to witness your spectacular day? For just $795 you will enjoy a wonderful wedding complete with up to 20 of your favorite people. These prices do not include coordination fees and state tax, however. As you can see, anyone can afford a Hawaii wedding!
The great thing about our Hawaii beach wedding packages is that they can be customized to your liking, and in accordance with your budget. Start with the basics (beach permit service, licensed minister/celebrant, vows, photography, Hawaiian prayer chant and blessing, orchid leis, and more) and build from there if you want to add floral tiki torches, butterflies, music, or any of our other embellishments. It's your wedding, make it what you have always dreamed of at Sweet Hawaii Wedding!