Envisioning an Oahu Beach Wedding? Make it Happen!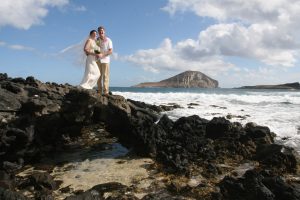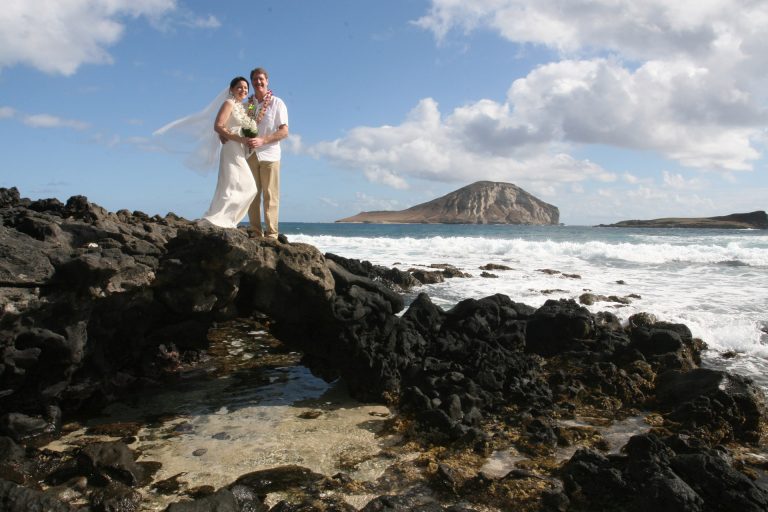 As trusted wedding planners in Oahu for more than 90 years, you can trust Sweet Hawaii Wedding to help you create the wedding of your dreams. We know that Hawaii is a top wedding destination for couples from all around the world, for good reason. Our amazing white sand beaches, tropical landscapes, mountains, and breathtaking sunsets make for a romantic, magical setting. If you and your bride- or groom-to-be are thinking of a wedding in Oahu, rest assured we can help you with all of the details, while helping you keep your budget under control.
Why an Oahu beach wedding? There's really no more a romantic location than the beach, where you can enjoy a more formal affair, or one that's casual as you stroll along the edge of the water barefoot. Are you a fun-loving couple who desires a beach wedding, but who would rather not stray too far from a fantastic night life? Waikiki offers the opportunity to enjoy an Oahu beach wedding that incorporates a little sophistication, as Waikiki is the resort district of Oahu.
Waimanalo Bay is the choice of couples who would rather not be in the spotlight, but who desire seclusion on a white sand beach offering truly exquisite surroundings. Joined by an ancient ironwood forest, Waimanalo Bay Beach Park stretches on endlessly – for almost five miles, in fact. One of the longest stretches of beach on Oahu, Waimanalo is ideal for couples who long for privacy, and enjoy sunbathing, fishing, boogie boarding, or simply taking a moonlit walk along the shoreline.
Regardless of which beach you choose for your Oahu beach wedding, we provide a wide array of services to make your wedding day truly special, one that you'll remember fondly for the rest of your life. From entertainment and wedding music to photography, video, and flower design, we will handle all of the details so you and your true love can focus on each other, and enjoy your stay on the island. Hair and makeup, sumptuous wedding cakes adorned with beautiful flowers, and artistically designed wedding arches are just a few of the other services we can provide. Of course, it IS your wedding, so all can be customized according to your wishes and budget.
If you're set on a wedding in Oahu and want to learn more about the beaches in the area and which may be the ideal venue for your special day, give Sweet Hawaii Wedding a call today. Our goal is to make your wedding exactly as you have always envisioned it – perfect.