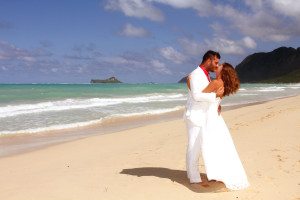 We would like to say one more time Thank You very much for the beautiful and wonderful moment with Sweet Hawaii Wedding. Our beach wedding in Hawaii was a dream come true for my wife and me. Reverend Coco you were so easy and helpful with planning our ceremony with you. We can all the way from France for our wedding day in Oahu and the extra assistance you gave to us made our Hawaii experience incredible! We appreciate your guidance with the Hawaiian wedding license and the many helpful suggestions about best places on the island to visit and great restaurants to enjoy made everything easy for us.
Since the day was rainy due to the hurricane and having our ceremony on that particular day was very important to my wife you were extra accommodating and let us get married at your private waterfall on the grounds of your lovely home. Then you let us have our photo shoot on the beach when the sun returned late in the week. This is what I call the real spirit of Aloha!
We have shown our pictures to all of our friends and they all say our wedding photos in Hawaii look like they came out of an advertisement in a travel or wedding magazine! Please give our Aloha to Dustin and let him know our pictures will be with us and treasured our entire life!