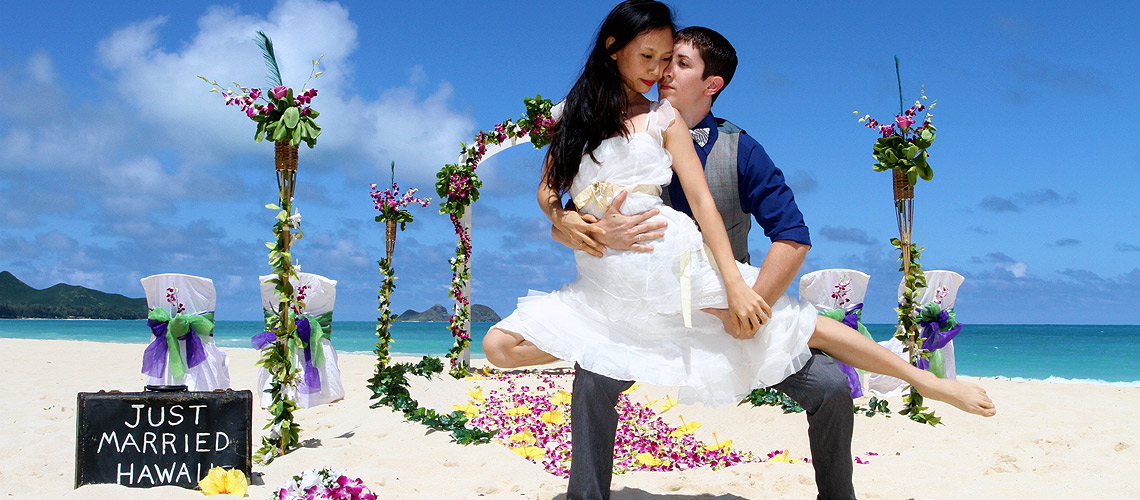 A wedding on Kauai is, without exaggeration, Heaven on Earth.
Aloha and welcome to our Kauai Wedding page. A destination wedding in Kauai is like no other, anywhere. The beauty of this amazing garden paradise island enhances and magnifies the joy and romance of your wedding day. Your vision of the perfect romantic event is easy to manifest with Sweet Hawaii Wedding on the Island of Kauai. The splendid and expansive white sands of our island provide a spectacular backdrop and make a Kauai Beach Wedding a breathtaking delight and lifelong memory for you and your true love. Wiggle your toes in the soft sand and feel the delicate touch of the tropical breeze on your face, as you speak your vows of love. Stroll hand in hand as newlyweds along the beach as the waves softly caress your feet and erase your footprints. Sounds good? Let's make it happen!
Barefoot Beach weddings or garden arch weddings, simple and beautiful for two or with all the bells and whistles with family and friends, we can make that magical Kauai Island wedding an exquisite reality . For three generations we have been assisting brides from all over the world to create their very own blissful ceremony masterpiece. If you are that couple who think outside the box and want to create a dream come true wedding and honeymoon, a Kauai wedding is a great value and much more affordable than you may realize. Request a quote from Kauai Beach Wedding and you'll see that we are easy on the wallet and huge with beauty and romance. Our brides and grooms are treated like royalty! After all, a Kauai Wedding Day is a once in a lifetime event for the two of you, so why not make it incredible by blending your love for each other with your imagination and create a gorgeous work of wonder! It is super-easy! We have abundant ideas to inspire you throughout our Kauai wedding planner and wedding amenities pages. We also welcome all of your creative ideas and Hawaii wedding wishes.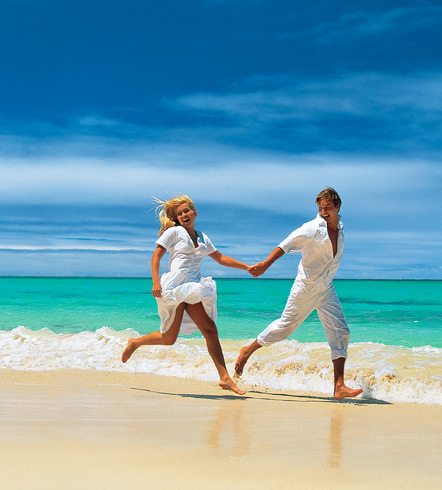 For those couples who need to include family and friends, empower us to guide you with our decades of destination wedding experience so you are the honored guests at your Kauai wedding and not the stressed-out hosts. After generations in the wedding business we realize how daunting wedding planning can be, so the first step is to request a quote and give us a call. The two of you can make this Hawaii wedding planning a fun and memorable experience. We encourage you to take the time to browse through our galleries together while imagining yourselves at these beach wedding locations and we guarantee you'll be smiling. The beauty that you and our wedding design team will create together will be awesome! A Kauai wedding has an elegance that will charm everyone and fill their hearts with the tranquility and peacefulness that is unique to Kauai.
Our expertise has always been in the wedding ceremony itself, and not in the travel, accommodations and receptions, but we have many connections with experts in these areas that are time-tested and trusted to provide you with the best services possible.
Beach locations on Kauai
Kauai Beaches are all fantastically beautiful, but the perfect one for your wedding will depend on the time of day you want your ceremony and were you are staying. From experience we always recommend a mid-afternoon wedding so that the heat of the day will have passed, there is good light for photos, and it is early enough to move to a back-up location should it be necessary. While it's true that Kauai has many dozens of gorgeous romantic ceremony spots, the beaches described below are our most popular and are superb locations for the couple who have a vision of simple, elegant beauty. Take your dear one by the hand and let your worries melt away, take a deep relaxing breath and smile.
There are no private natural beaches in Hawaii as they were put in the hands of the people when Hawaii became the 50th state. THIS MEANS THAT ALL BEACHES ARE PUBLIC and All of the beauty and charm of the Hawaiian beaches belong to our couples!! It is a Hawaiian belief that where ever love is felt, spoken or experienced, its spirit is forever absorbed into the land, and touches all who visit thereafter. Your celebration of love brings more delight and wonder to these already gorgeous beaches! Your magical beach ceremony with Sweet Hawaii wedding will leave an imprint of everlasting love forever upon the sands of Kauai. Your footprints will be washed away and the flower petals carried off by the wind, but the love you share in your divine ceremony will live on and become part of the essence of the island and will remain forever in your hearts.
We at Sweet Hawaii Wedding know that you will fall in love with Kauai's Sweetness as we have, her gentle spirit will mesmerize your spirit bringing a transformation of your reality!
Each beach has its own individual character, so if possible plan your trip to be here a few days prior to your wedding so you can explore and experience their essence and energy. You should try to find the one that makes your heart tingle, and whether or not it will work harmoniously with the type of ceremony you have planned. If it is not possible for you to visit them in advance, we have provided descriptions and pictures for you to look at and make your decision or let us decide for you. We will take into consideration the location you are staying and the type of Kauai Beach wedding set-up you have chosen. Tropical sun can be extremely intense so many couples have discovered that it's good to find a beach in Kauai that has an adjoining forest to escape into for cooling off. Above all else, relax and know that you will find the beach that makes your heart sing. Rest assured that you are taken care of by Sweet Hawaii Wedding and the great Gods and Goddesses of these e gentle islands.
Kauai Beach Photo Gallery