Tropical Flower Decorated Tiki Torches:
Adding Tiki torches to your beach set up is a simple way of creating a sanctified space for your Kauai or Oahu Beach wedding ceremony.
Our Hawaiian Tiki Torches decorated with gorgeous tropical flowers helps you to enter into a dimension of Charm, Grace, and the Mystery of Old Hawaii.Our island-style wedding ceremony with Tiki torch embellishment, helps to summon the spirit of Aloha, creating a ceremony full of the magic of your love.
Two Tropical Flower & Greenery Decorated Tiki Torches: $200

Four Tropical Flower & Greenery Decorated Tiki Torches: $350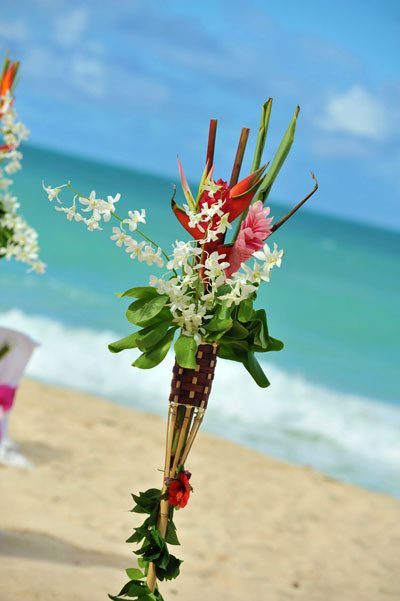 Chair Designs and Imaginations
Flower Pathway Designs and Imaginations
Chairs will sprinkle a bit of formality to your beach wedding.
You will be married in the most beautiful Chapel in the world made directly by the creator's hands:The blue sky with sparkling sunshine and fluffy white clouds are your roof. The crystal turquoise roaring ocean and green swaying trees are your walls. The soft white sand is your floor…"Tis' Bliss"
Chairs with white cotton cover, color of your choice sash and tropical flower: $22.00 each.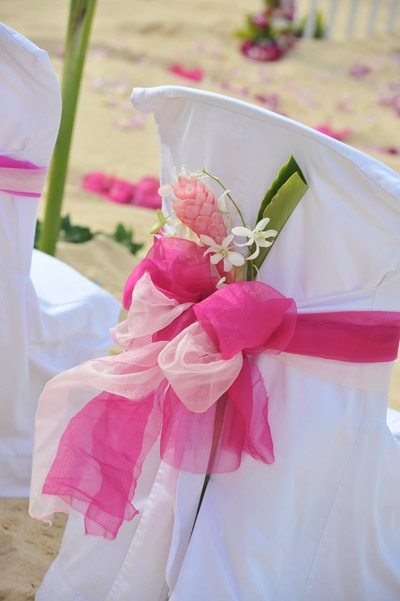 Flower Designs Photo Gallery
Our artistic creation of your very own flower pathway adds Color, joy and most of all the delicate mysterious laughter of these sweet tropical flowers! You will delight as you walk barefoot upon their sweetness to join hearts with your true love.
Flower Pathway – One Color ($175)

Flower Pathway – Two Color ($250)

Flower Pathway – Three Color ($300)

Flower and Fruit Smoothie Pathway ($575)