Professional Wedding Photography & Video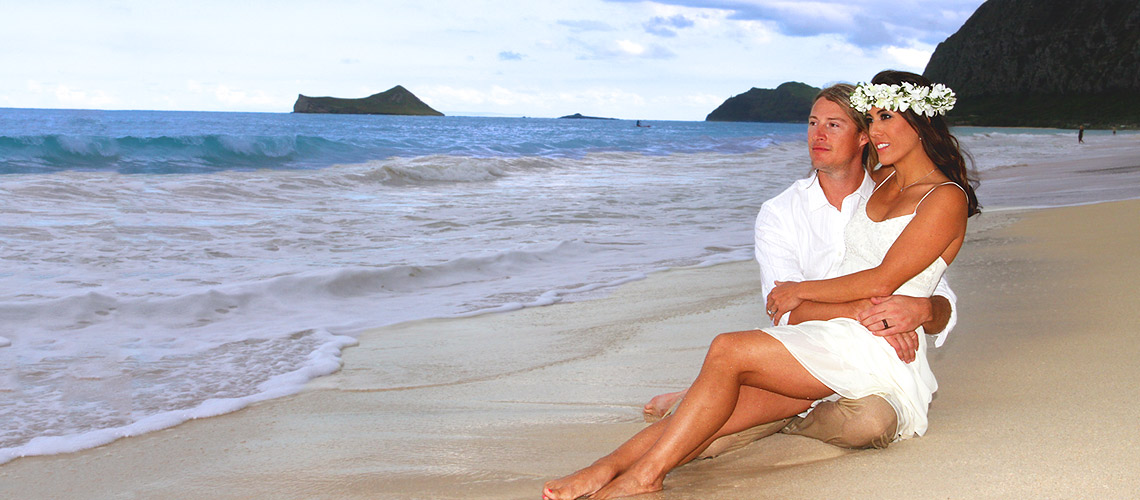 Our basic package abounds with so many delightful amenities, but it is the Photography that sets the bar high for other wedding companies!
With our Basic Sweetheart Package our photographers are with you a full hour capturing the romance, joyous mood, tender moments and heartfelt laughter of your Hawaii wedding day! Not only do you receive a minimum of 175 images, we give you the entire disc of pictures right at the wedding site! We understand how important your wedding photos are and make sure they are in your hands immediately. The photos are 100% YOURS with no need to purchase expensive additional prints from your disc. We keep your photos backed up on our hard drive for six months for extra security. Just relax, smile and we do the rest.
Any of our Photography Packages below can be added to your Basic Barefoot 175 photo wedding package.
Hawaii Wedding Dreams - $425
1 Additional hour of photo journaling

400 High Resolution images on uploaded to the internet (no copyright restrictions)

Many Variations of Romantic Poses
Additional 1.5 hours of photo journaling

500 High Resolution images uploaded to the internet (no copyright restrictions)

Many Variations of Romantic Poses
ANY of our packages can be upgraded to a second location with a half-hour photo session.
Upgrade of Photo Sessions
A second nearby location – ½ hour session – 200 images, 20 Romantic Poses ($250)
Locations: Heaven's Point/Wedding at Waialae or Makapuu/Wedding at Wiamanalo.
If you want many varied locations and photography that captures your romance at all of these enchanted settings you must order Sweet Hawaii Wedding's Limo Cruise. Our Oahu Hawaii wedding professional photographers capture your unique Oahu wedding day moments in timeless images to be enjoyed over and over again.
Here is what is included:
4 ½ hour Photo Cruise 'Love Story on Tour'
("Hawaii Love Story on Tour" Photojournalist Wedding Package)
Couple are taken on 4-5 of the Island's most spectacular backdrops for romantic photography session with professional photographer. Your backdrops will be: Rainforest, waterfall, mountain, ocean cliffs and pristine sandy beach.
3 ½ hours of Photojournalist coverage throughout the island's beautiful locations

Add 5 hours of limo service $450

Beautiful wedding album plus a Love Story Photo Book

Photo Book 800 images on a cd (no copyright restrictions).
Cinemagraphic Love Story Video Packages:
Deluxe Hawaii Love Story ($600)
Lovely lead in scenes of the Hawaiian islands, Hawaiian music, your names & wedding date, broadcast quality wireless microphone, full coverage of your ceremony, with movie set format and directed love story themes professional editing.
Limo Cruise Photo Gallery